20-year milestone for The Copper Mug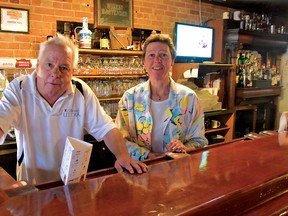 Article content
Twenty years ago Tim and Doris Weiler bought the Tillsonburg pub that would be renamed The Copper Mug.
"Does it get any easier?" Doris mused. "Not really, because just when you think you have things under control, something else happens. It's never a dull moment. You always have to be on your toes, it's not like you can sit back and coast."
"I'll never forget the first day we took over," said Tim, laughing. "It was 4 o'clock in the afternoon and Chris Legein comes in, throws the keys at me, and says the cooler doesn't work and the walk-in downstairs is done. 'Welcome.'"
Tim and Doris had bought The Copper Mug on June 21, 1995, which had been part of the Carey's franchise along with Carey's pubs in London (Carey's Bar and Grill) and Simcoe.
"When we bought it, we just told the guy that owned the franchise we were going to change the name. We said, 'Give us six months,' and he did. We just wanted six months to get a feel for the business. Actually, it worked out really well."
"Chris Legein was the franchisee here, and he wanted out," said Doris. "He gave us an option if we wanted to stay with Carey's. We didn't want to, so in that case we had to change the name."
In January 1996, the pub at 97 Broadway became The Copper Mug. And the rest, as they say, is Tillsonburg pub history.
Tim is credited with the Copper Mug name, inspired by a pub he used to frequent out west. In Penticton, it's The Copper Mug Pub – the oldest pub in that B.C city.
"It's actually still there," Doris noted. "We did a name search, the lawyers didn't think there'd be any problems."
"We just spelled it differently," said Tim. "Do you know how many Copper Mugs there are in Ontario?" he added with a laugh. "There's a lot. A lot with different spellings."
Prior to buying The Mug, the Weilers had extensive background in the restaurant industry, including catering at the Tillsonburg Golf and Country Club, from 1986-88, and eight years of canteen catering at RJR-Macdonald.
"We also owned a restaurant in Port Burwell," said Doris.
"At the same time we were doing the canteen," Tim noted.
They sold their restaurant in 1995 when they purchased Carey's.
Over the past 20 years there have been some changes in the industry. Tim noted the two biggest.
"When the 'no smoking' came in (2006 Smoke-Free Ontario Act), we didn't know how to react," he said. "As it turned out, it was great. Because of the food."
"It ended up helping us," Doris nodded.
"If you have the food aspect of it, then you don't have anything to worry about," said Tim. "But if you were just a tavern – which we never were..."
"Our food sales increased, for sure," said Doris. "Once everyone stopped smoking, it opened things up."
"The other one is the 0.5 per cent," said Tim, noting Ontario's tougher drinking and driving laws introduced in 2009.
"Officially, it's 0.8," said Doris, "but then they went 0.5 that you could still have your car impounded (three-day licence suspension). It took its toll."
"It's for the better actually," said Tim. "Our liquor sales have dropped. But our food sales are still up."
"Percentage-wise, our food sales have increased dramatically," said Doris.
"If you're in this business, and you're relying totally on liquor, you're not going to make it," said Tim.
"There's a lot more rules and regulations now," said Doris, comparing 2015 to 1995. "Overall – the rules, the regulations, the standards. And it's more costly."
CHEERS STYLE
The Copper Mug is known for its cozy, rustic atmosphere. It's a casual, Cheers-type pub.
"Everybody knows your name," Doris smiled. "The staff's friendly, and we call people by name when they come in. And you're almost guaranteed to know people when you come in here as a customer. It always looks cozy, even if there's only a couple tables in here. It still looks welcoming.
"For our food, we're well-known for out home-style food, large portions, reasonable prices, which we strive to maintain."
Another thing they've noticed over the past 20 years is a change in generations.
"The first generation," said Doris, "for example guys like Tony Sofalvi and Bryan Saelens – that group, now they're coming back to their old watering hole, but they've all got families. Even their kids are almost old enough to drink now. We're seeing the change of generations, and they like to come back to The Mug when they reunite with their friends."
Doris noted they tap into all ages – from seniors to young adults.
"We have a good cross-section."
20th ANNIVERSARY
The future looks good for The Copper Mug, but Doris and Tim are not yet planning the pub's 25th. For now they'll focus on the 20th anniversary, and their July 26th – August 1st anniversary specials.
"When we first bought the place, I didn't think we'd ever be here in 20 years," Tim admitted.
"No, I didn't think so either," Doris agreed. "How fast it's gone – it goes by like nothing. Wish I could remember everything, I'd write a book. I remember a lot, but...
Both are optimistic looking forward.
"Because people like the new and fancy stuff, but there is still a call for the wood and the brick – it's coming back around," said Doris. "And we've reinforced what we have – we re-varnished the bar, the tables, put some new lighting in, upgraded the TVs... but we don't want to change the rustic, cozy atmosphere. I think that's part of the drawing card, you can't just build this anymore."
"We've re-done our booths, and we get a lot of comments on that," said Tim.
How many more years for The Copper Mug?
"We're just going to keep going until we can't go anymore, I guess?" Tim smiled at Doris.
"Basically," she nodded. "Right now, we've got the 20th."
The 20th anniversary celebration kicks off with The Paddy Stones performing Saturday, July 25th at 9 p.m. They also have a barbecue giveaway, which will be drawn on August 1st.
Anniversary specials on their menu are available Monday through Friday, as well as cupcakes daily. From Monday to Wednesday, 11:30 a.m.- 5 p.m., they are offering complimentary coffee or fountain beverages.
We apologize, but this video has failed to load.
20-year milestone for The Copper Mug
Back to video