Run to the Ribfest - July 17-19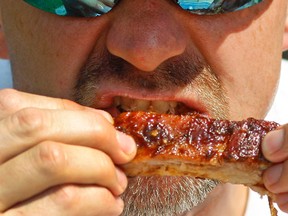 Article content
Railroad Ribs, Ribs Royale and Jack the Ribber - three big rib vendors will anchor this weekend's Tillsonburg Ribfest, July 17-19 at the Tillsonburg fairgrounds, hosted by the 2015 WOAA champion Tillsonburg Thunder.
"I'm going to sample all three this weekend," said Ribfest committee chair and team president Mike Holly.
But they have more than great-tasting ribs... a lot more. They have 15 bands lined up and music will be playing all weekend long. Friday night's entertainment has a rock-and-roll theme, Saturday country music, and Sunday is Family Day.
Gates open at 11 a.m. Friday through Sunday and admission is free. Entertainment will continue until 11 p.m. Friday and Saturday, and Sunday's activities end at 7 p.m.
"We're running a 50-50 the whole weekend," said Holly. "The draw is 6 p.m. Sunday, you don't have to be there to win. If we sell all the tickets, the winner will take home $4,000 easy."
Organizers were excited to get Tanya Marie Harris on stage Sunday.
"She's a recording artist out of Nashville – she's playing in Niagara Falls that weekend, heard about our Ribfest, called us up and said 'I want to play.'"
Bender and Squeeler are Friday night's headliners, while 8 Second Ride and Cutler Boyd headline Saturday's bands.
"I'd say more than half the bands are right from this area," said Holly.
Bounce castles – including paddle boats – will be up all weekend, supplied by Tillsonburg's Super Air Bounce Rentals.
"There will be a small fee for the bounce castles," he noted.
In addition to the rib vendors, Kelsey's Restaurant will have a food booth for those who want to sample something other than ribs, as well as Domino's Pizza.
There will be 46 vendors in total, including ice cream, lemonade, french fries, hot dog, candy and other local and home-based businesses.
A car show will set up near the Crystal Palace all-day Friday, weather permitting. On Saturday, the trucks roll in for an all-day truck show. And on Sunday they will have both cars and trucks – and a tank.
"The tank's coming from Ingersoll," Holly noted.
"We're hoping a lot of people come out to support Ribfest this year," Holly summed up, noting it's their first try at running a Ribfest – a fundraiser for the Thunder senior men's hockey team.
"We want to see a lot of people this weekend – let's swamp those ribbers, and next year maybe we can get six of them. The more people there, the more ribs you can choose from."
2015 RibFest entertainment
FRIDAY, JULY 17
11:30-1:30 PA rock and roll
2-3 p.m. John Speechley (local musician)
3-4 p.m. Caleigh Foster band C.A.S.S. (local youth band)
4-5 p.m. John Speechley
5-5:30 PA rock and roll
5:30-6:30 p.m. Lena's dancers (local dancers)
6:30-7 p.m. Music and band setup
7-8 p.m. Bender (feature band)
9-11 p.m. Squeeler (feature band - AC/DC tribute)
SATURDAY, JULY 18
11:30 a.m. PA country music
12-1 p.m. Charlotte Bolton (local youth musician)
1:15 p.m. John Speechley
2-2:45 p.m. Tyra Wiebe (local youth musician)
3-4 p.m. Sight Unsound (London band)
4:30-5 p.m. Country Cruisers dance team
5-6 p.m. Greg Gingerich and Mike LaChapelle (local band)
6:30-7 p.m. PA music
7-8:30 p.m. 8 Second Ride (feature band)
9-11 p.m. Cutler Boyd (feature band)
SUNDAY, JULY 19
11:30-12 Ray's Reptiles
12:30-1:30 p.m. The Sound (Burford youth band)
2-2:30 p.m. Ray's Reptiles
3-4 p.m. Tanya Marie Harris (feature band)
4:30-5:30 p.m. Doug Clayfield trio (Cambridge band)
5:30-6:30 p.m. Last Highway (local band)
7 p.m. End of 2015 Ribfest.
We apologize, but this video has failed to load.
Run to the Ribfest - July 17-19
Back to video