Big day for Canada at Pan Am Games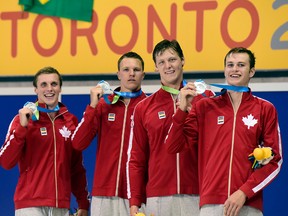 Article content
THE CANADIAN PRESS
Two gold medals on Tuesday, four records and a pair of wins over a decorated American Olympian.
Glendale HS grad Evan Van Moerkerke, Santo Condorelli of Kenora, and Calgary's Karl Krug and Yiri Kisil claimed silver in the men's freestyle relay.
A towering 6-foot-9 member of Canada's swimming sprinters, Van Moerkerke, who's taking some time away from chores on the family's Brownsville farm, will also be swimming in the 2015 FINA World Championships in Kazan, Russia (July 24-August 9), a 31-country international event which includes swimming, diving, synchronized swimming, open water swimming, and water polo.
"It's been a lot of team-building this week here," the 21-year-old said last week. "This year has been a stepping stone for me, and making this team, it really means a lot. We're looking forward to some great results."
On a day where Canada once again raked in medals at the 2015 Pan American Games, Winnipeg swimmer Chantal Van Landeghem's electric debut shone particularly bright for the host nation.
Van Landeghem ignited the pro-Canada crowd at the Pan Am Aquatics Centre and Field House by beating decorated U.S. Olympian Natalie Coughlin to win the women's 100-metre freestyle.
It was the start of a huge day for Canada's swimmers, who picked up six medals in six finals, including three gold, on the opening night of swimming.
Audrey Lacroix of Pont-Rouge, Que., won the women's 200-metre butterfly and Van Landeghem capped her night swimming the anchor leg of the 4x100 freestyle relay and besting Coughlin again.
The haul from the pool supplemented a second straight huge day for Canada's rowers and paddlers, who combined for five gold and eight total medals. Canadian athletes won 23 medals overall on Tuesday.
Canada continued to lead all other nations with 25 gold and 64 total medals after four days of competition. The United States was second in both categories with 19 gold and 60 total medals.
Cuba and Colombia each had 14 gold medals, while Cuba was tied with Brazil in the overall standings with 41.
Van Landeghem set Canadian and Pan American Games record in the 100 freestyle with a time of 53.83 seconds and helped the relay team post national and Pan Am records in with a time of three minutes 36.80 seconds.
"I think the crowd got me into it honestly," the six-foot-three swimmer said. "I kept saying thank you when I got out of the water because they were amazing. They really pushed me the last 15 metres.
"It's nothing like I've ever experienced just because it was on home soil in Canada. Seeing that flag raised, I was just overcome with so much pride."
Van Landeghem, Toronto's Michelle Williams, Sandrine Mainville of Boucherville, Que., and Montreal's Katerine Savard also posted a national and Pan Am record in the relay with a time of three minutes 36.80 seconds.
Condorelli took silver in the men's 100 freestyle and Zach Chetrat of Oakville, earned bronze in the men's 200 butterfly.
Earlier, Canadian rowers picked up three gold medals at the Royal Henley course in St. Catharines.
Carling Zeeman of nearby Cambridge opened with a victory in the women's single sculls race, finishing more than seven seconds ahead of her closest competitor.
"It's kind of a special moment for me," she said. "And it really touches me that everyone is coming out to watch. It is a rainy day but it's certainly not dampening any spirits at the finish line. The momentum they have going down there is just, it's unbelievable. I love it. It just adds to the fun of racing."
Zeeman's victory was followed with a gold medal in the women's lightweight double sculls by Victoria's Liz Fenje and Katherine Sauks of Owen Sound.
Fenje and Sauks won with a time of 6:57.23. The held off a late charge from the Cubans, who took silver in 7:00.36.
"We actually didn't have the greatest first couple of strokes in our race, but suddenly we just locked into it and felt ourselves pulling away," said Sauks.
Canada finished the day of racing by winning the men's quad sculls.
Matthew Buie of Duntroon, Ont., Julien Bahain of Sherbrooke, Will Dean of Kelowna, and Rob Gibson of Kingston, also led the race and won with a time of 5:42.22.
A few kilometres south in Welland, Mark de Jonge of Halifax and Laurence Vincent Lapointe of Trois-Rivieres, led the medal rush with golds.
De Jonge captured gold in the K-1 200 metres, and has his sights set on the top of the medal podium at next year's Rio Olympics.
"We were training pretty hard last week and didn't have that taper going into this as much as we would for worlds," de Jonge said. "But you just have to deal with it, the long-term goal is qualifying for the Olympics, and ultimately win a gold medal at the Olympics."
Vincent Lapointe dominated the women's C-1 200 in the event's Pan Am Games debut, roaring to gold by a margin of more than two seconds.
"I was tired at the end, but I said to myself, 'This is the Pan Am (Games), I can't give up," she said. "I gave my all for Canada."
De Jonge and Pierre-Luc Poulin of Lac-Beauport, also earned a bronze in the men's K-2 200 metres.
Jason McCoombs of Dartmouth, added a silver in the C-1 200 metres, while Michelle Russell of Fall River, N.S., won silver in the women's K-1 200.
Elsewhere, Halifax gymnast Ellie Black won her third medal of the Games, taking bronze in the women's vault.
Black won the gold medal in the women's all-around competition on Monday and helped Canada win silver in team competition on Sunday.
"The team did really well here and that's definitely going to help us, moving forward to the world championships," she said.
Canadian judokas added a pair of medals, with Marc Deschenes of Laval, winning silver in the men's under-100 kilogram division and Catherine Roberge of Quebec City bringing home bronze in the women's under-78 kg event.
The Canadian women's water polo team settled for silver, losing 13-4 to the Americans in the final.
In badminton, Canada earned two bronze in women's doubles competition, while Michelle Li of Markham, and Toronto's Rachel Honderich both won their singles semifinals to set up an all-Canadian women's final on Thursday. Canada will be guaranteed another badminton medal as Ottawa's Andrew D'Souza won his men's semifinal match.
Canada picked up a couple of silver medals in squash with both the men's doubles and women's doubles teams losing their final matches.
In equestrian, Christopher Von Martels of Ridgetown, claimed bronze in individual dressage.
Canada remained undefeated in baseball and men's softball. The baseball team beat Cuba 3-1 led by a Tyler O'Neill home run. Meanwhile, the softball team cruised to a 9-3 rout of Argentina.
And in tennis, Philip Bester of North Vancouver, and Ottawa's Gabriela Dabrowski advanced to the final of the mixed doubles competition with a 2-1 win over Colombia's Mariana Duque Marino and Eduardo Struvay. Gabrowski is also in line for a women's doubles medal after teaming with Carol Zhao in a 2-0 quarter-final win over Camila Giangreco and Montserrat Gonzalez of Paraguay.
- With files from LFP's Ryan Pyette
We apologize, but this video has failed to load.
Big day for Canada at Pan Am Games
Back to video