Pucker up in Port Burwell Saturday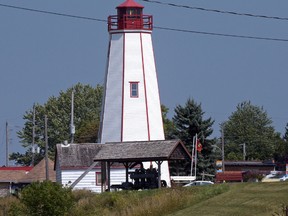 Article content
The oldest wooden lighthouse on the north shore of Lake Erie, and one of the oldest surviving wooden lighthouses in Canada, celebrates its 175th anniversary on July 1. A special celebration organized by the Port Burwell Historical Society is scheduled on Canada Day in recognition of this significant landmark.
In 1837, while Mahlon Burwell was a sitting member, Upper Canada's parliament granted £500 for its construction and, by the summer of 1840, its commissioners in Port Burwell were able to report that it was "in a fit state to be used." Although Port Burwell's lighthouse was originally built to aid sailing vessels, it was soon seen as an asset appreciated by all who set off from these shores of Lake Erie, fishermen and sea merchants alike.
For more than a century, commercial fishing was an important contributor to village life and, at one time, Port Burwell was considered the largest commercial fishing port on the north shore of Lake Erie and among the largest on the Great Lakes.
In 1936, Reverend Canon R.W. James shepherded Port Burwell's Trinity Anglican Church through its centenary year. An old fisherman himself, Canon James held special services at the end of every winter to bless the fishing nets when local fleets put out to sea. This gesture was an indication of his profound recognition of the spiritual significance of everyday life, and of Port Burwell's often precarious dependence on and respect for the lake, and the many livelihoods it provided and took away. Blessing nets is an ancient tradition in many parts of the world and can trace its origins to the biblical story of the fishermen disciples.
In 2009, Trinity's Reverend Adele Miles revived Canon James' depression-era practice in late winter as the lake begins to open for another fishing season. This year's blessing of the nets, officiated by Father Robert Clifford of the historic Trinity Anglican Church, was the seventh year that dozens of villagers gathered alongside Tim and Brenda Martin's Fish Market on a Sunday afternoon in March for the revival of this touching tradition.
PUCKER UP
While Lake Erie has been a source of plenty and pleasure for so many hundreds of years, it has also dispensed its fair share of pain and sorrow, which is why – in this year of the 175th anniversary of the old lighthouse – Port Burwell's landmark Lighthouse Restaurant is launching a new tradition (modelled after Newfoundland's Kiss the Cod tradition, with its knowledge and blessing) that gives visitors the opportunity to become an honorary citizen of Port Burwell, and is a way to bless and pay one's respects to Erie and all who fish her – past, present and future.
Municipality of Bayham Mayor Paul Ens will do the honours of being the first to launch this new tradition on Saturday, May 16 at 7:30 p.m in the Lighthouse Restaurant. It will involve a pair of large yellow 'Wellies,' an antique brass bell, a lilting limerick, a stiff shot of Erie Elixir and a fresh pickerel! Pucker up!
Those who would like to participate can do so from the May long weekend until the September long weekend, with a portion of all proceeds raised being donated to the Port Burwell Public School Breakfast Program.
Those who wish to join the Mayor to Pucker Up in Port Burwell are welcome on the 16th, then sit back and enjoy the sounds of the Beast Row Band.
We apologize, but this video has failed to load.
Pucker up in Port Burwell Saturday
Back to video