Lemonade for Kyi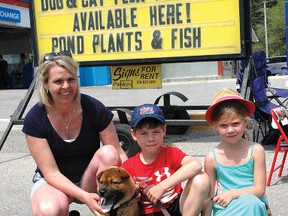 Article content
The lemonade business was good for eight-year-old Connor Mullen and his six-year-old sister Megan on Saturday.
Setting up their stand in front of Ruffin's Pet Centre on north Broadway, the Mullens were raising money for Kyi, a Chow Chow puppy in need of heart surgery.
"More than 40," said Connor, estimating the number of customers they had served with more than 30 minutes left to sell.
"It's been good," he said.
Connor set a target of $120 Saturday. An earlier lemonade stand, supported by neighbours and friends, had raised $75. They did better than expected Saturday, topping $300 from the sale of 12 litres of lemonade, which had been prepared by his sister, Megan, and mother, April.
"It was hard work," he admitted.
The beneficiary of their hard work, Kyi, was inside the store, out of the heat, with Chow Rescue Ontario leader Laurie Toth.
"I was contacted by a vet who told me the breeder was going to put him down," said Toth, from Tillsonburg. "He has a Grade 6 heart murmur, which is the worst. The breeder said 'put him down,' so they took him on, then called me."
Kyi, a smooth-coated Chow, does have an adopted home now. His new owners, from Calgary, will be flying to Ontario to pick him up, then driving home. They will drive back in July for Kyi's surgery in Mississauga.
"It (heart murmurs) is rare for a Chow, and to be that severe, because lots of dogs with a Grade 2 can lead normal lives."
Without surgery, Kyi has a very short life expectancy. But at about eight months, there is a procedure to increase the flow of blood from heart to lungs.
"We weren't going to let him go until after the surgery," said Toth. "But then we thought he deserves a family to love him... and they had no problem taking him."
At what point does the cost of saving a dog become prohibitive? Toth said it's dependent on whether the dog can lead a normal life.
"He (Kyi) won't be 100 per cent fit, but he could lead a normal life with reduced exercise. These people are well educated, they know that. Chows need somebody who knows the breed. Everybody thinks they're so fluffy and cute, but... you need to know the breed before you get one.
"They don't like (the heat) – they're indoor dogs. In the winter, they love it. And they're usually one-family dogs."
Last year Chow Rescue Ontario had 14 Chow adoptions, and Toth said they probably could have had more if they had more foster homes.
"Cheddar, he was a stray that was picked up in Toronto," said Toth, noting one of their canine visitors on Saturday. "The animal control called me (in March) to see if he could come into Rescue."
Another rescue, Moose, on leash with Toth inside Ruffin's, was adopted into a Tillsonburg home last October.
"He (Moose) was a 12-week-old week puppy with gall stones. He had surgery before he came to Rescue."
We apologize, but this video has failed to load.
Lemonade for Kyi
Back to video