Keeping Tillsonburg beautiful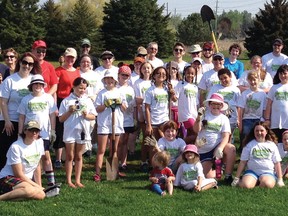 Article content
Many hands and shovels made short work of planting nearly 800 trees at the Annandale Ball Park on Concession Street East Saturday morning.
All with the idea of Keeping Tillsonburg Beautiful, an annual community-supported cleanup and planting project organized by the town's Heritage, Beautification and Cemetery Advisory Committee.
"There was quite a variety of Carolinian trees," said Corey Hill, Parks and Facilities manager. "A variety of species, so many I probably couldn't even tell you how many. Long Point Conservation Authority brought the trees and Paul Gagnon was here giving instructions on planting."
"The Conservation Authority helped us decide what to plant where, depending on the ground and that kind of stuff," said Rick Cox, Director of Recreation, Culture and Parks, noting the trees should have a long and healthy life. "This space will always be 'park.' The way the land was acquired, it's impossible for it to be anything other than open space... and that's okay."
"I think we had 75 people out there," said Paul DeCloet, vice chair of the Heritage, Beautification and Cemetery Committee, "and then there were others who have gone to do cleanups. We had the Sea Scouts, and quite a number of individuals and different groups."
"We had Scouts, Guides, moms and dads out with their kids," said Hill. "Mayor Stephen Molnar gave a little speech and stayed the whole time planting trees. It was a great time."
DeCloet said Parks and Cemetery staff were instrumental in helping to put the day together and preparing many holes for tree planting.
"They were the spark plug that made it go," DeCloet smiled. "Plus the beautiful weather helped, too."
"TD Friends of the Environment were a big part of making it possible – they were a big funder for today's planting – the biggest plant we've done," said Cox. "Also thanks to LPRCA, and thank you very much to the Knights of Columbus and the Tillsonburg Lions as well."
Hill said they expected it would take a bit longer than one-and-a-half hours to plant the trees, and was impressed by the efficient work.
"We figured it would take a good couple of hours," said Hill. "Everybody went through it really quickly. It was really nice to see the little kids helping – the parents digging the holes and the kids planting the trees. The holes that were pre-dug sped it up significantly. And the kids got to have a lot more fun that way."
A barbecue at the Annandale diamonds followed the planting and cleanups, with draw prizes, T-shirts and refreshments.
"The longer term strategy is to pick areas to naturalize," said Cox, "that over time will create more habitats. More Carolinian species, more diverse habitats... and mow less grass. Three good things."
We apologize, but this video has failed to load.
Keeping Tillsonburg beautiful
Back to video