Happy Healthy YOU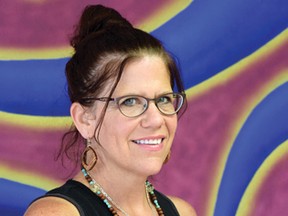 Article content
Happy Healthy YOU - Kelly Spencer
(A wellness column by Kelly Spencer: writer, life coach, yoga & meditation teacher, holistic healer and a mindful life enthusiast)
The scene was twenty-five years ago at a booth at Joe Kool's pub in London Ontario with my childhood companion and first cousin. He told me that he wanted to tell me a secret he hadn't told anyone. Nervously after several minutes, he stated "I am gay".
I had never seen him with another man, in fact I had met some of his girlfriends but I knew this statement to be true. I was raised to be loving and acceptance of all differences so this didn't really shock me. In fact the running joke is that my reply to his announcement was "yes and the secret you wanted to tell me is?"
The harsh reality is although we are more accepting of lesbian, gay, bisexual and transgender (LGBT) folks, there are many that have suffered and continue to.
The National School Climate Survey conducted in 2011 reported that 82% of LGBT youth had problems with bullying about sexual orientation and that 64% felt unsafe at school. Bullyingstatistics.com reports 35% receive online threats. The American Human Rights Campaign reported that almost half of the LGBT youth live in a hostile environment and are twice as likely to be physically assaulted then heterosexual teens.
Research has also shown an increase in mental health issues such as depression (increase by almost 50% then non-LGBT youth), increase with drug abuse, school absenteeism and dropout.
An article by editor and writer Jennifer Welsh states that "gay, lesbian and bisexual teens are five times more likely to commit suicide than their heterosexual counterparts."
Amanda, a 26-year-old Tillsonburg resident, offered me insights to her life as gay woman.
Kelly: First big generalized question: What is like to grow up gay in a small town?
Amanda: Mostly feeling so different from everyone else, and feeling when people know you're different they won't like you anymore. I did everything I could, like dating men, because I felt that was what I should be doing. This squandered my own truth, trying to be something I'm not. I was very depressed and confused because I felt like I wasn't the person everyone wanted or expected me to be.
Kelly: When did you know you were gay?
Amanda: When I was a young, I was tomboy with a very feminine twin sister. I dressed like a boy sometimes but I was expected to wear dresses. I felt like I wasn't being me. I didn't grow up knowing anything about homosexuality. I was totally oblivious to that lifestyle even being an option for me. I saw 'The L Word' television show and I just assumed the 'L' stood for Love. I didn't even know the word lesbian until that show. I had always idealized women in movies and bands, but never knew what that was really about. When I was 17, I experimented with a female friend and I felt like it woke me up to what it was supposed to feel like. I had never experienced that kind of excitement teen straight girls feel for boys.
Kelly: Statistics show that 9 out of 10 gays have been bullied. Did you ever experience bullying?
Amanda: Yes, both verbal and physical abuse. I was bullied for dressing and acting more like a boy than a girl. They would throw basketballs in my face, body slam me on the playground; kick me in the back to knock me to the ground. This was in elementary school before I was 'out'. In high school, even the teachers would make degrading comments. I remember one teacher would scoff and shake their head walking by queer kids.
Kelly: Did you ever miss school because of this?
Amanda: Yes. I missed a lot of high school because of my struggle with mental health and hospitalization. I've struggled with depression and thoughts of suicide for the better part of my life. Not just from being bullied, just struggling with identity and confusion.
Kelly: What is it like now?
Amanda: The bullying has lessened as I get older and more in control of my life. But even to this day, people will make jokes; my sexuality is brought up quite frequently for no reason other than for people to get a good laugh or to try to make a stab in a totally irrelevant argument. When someone is trying to insult me, it's almost always guaranteed that my being gay or looking masculine will be brought up.
Seven years ago, my Christian church was contemplating whether or not they would accept gay people in the church. I left before they made the decision. Recently though, my sister asked me to help with the musical group worship. I played drums and guitar. The elders of the church found out that I am gay and I was asked to leave. I wasn't surprised. It sucks and I'd love for things to be different but I try not to take it personally.
Kelly: Do you think it is harder growing up gay in a smaller town?
Amanda: Being in a city would probably be easier and more accepting and supportive because there's more variety of people and lifestyles.
Kelly: Anything else you want to say?
Amanda: I'm glad I'm openly gay now. Going through all the struggles learning to just be yourself, helps you accept other people as they are, without judgments. I am grateful for my journey, and want queer kids to know that it gets better as you grow. Bottom line is I wish the small town view would change a lot more but I know there is a whole world out there that wants everyone to be happy and loved. I keep that wide world view in this small town and appreciate others that do too. My immediate family and close friends are very accepting and just want me to be happy. They can see the love I have with my girlfriend. I'm grateful for them. Anyone who doesn't accept, I just step back from.
I also asked my friend Michelle who is also a lesbian and about 20 years older than Amanda if she had any thoughts she or her friends would like to share. She offered that there were many obstacles of overcoming fears; both their own and those imposed by others but there have been some powerful and positive experiences with self-discovery. Finding support and overcoming shame of who you are is so important for self-esteem. And that just because gay lives are with people of the same sex, doesn't make them any different in the way they love, feel, learn, trust, believe and so on, than anyone else.
Although there is further to go, I feel our small town is moving in the right direction: our high schools in both Tillsonburg and Aylmer have Gay Straight Alliance Support groups, there are ministers that support and officiate same sex marriages in our area and this weekend is "International Day Against Homophobia" and Tillsonburg is offering a Rainbow Rally Walk, May 15th at 12pm at the clock tower. Coffee and snacks at Canadian Mental Health Association afterwards at 40 Brock Street.
At the end of the day, there is a universal right and desrire that includes each and everyone one of us despite our race, religious beliefs or sexual orientation. We want and deserve to be happy, healthy and loved.
(If you would like to see an article on a specific topic, please email kelly@indigolounge.ca)
Taking a stand against homophobia and transphobia
Since 2013, the Oxford County Rainbow Coalition has taken to the streets to promote a diverse community. Once again this year, the Coalition will be "showing their colours" with two community walks to celebrate diversity in Oxford County.
Everyone is welcome to come to these walks, show their support and join in a discussion over coffee and cookies. The International Day Against Homophobia and Transphobia encourages the LGBTQ community and their allies to feel empowered while standing up against discrimination.
These walks offer a comfortable setting where everyone can feel welcome and appreciated.
IF YOU GO
When: Friday, May 15, 12:15 p.m.
Where: Tillsonburg Clock Tower, 41 Bridge Street (at Broadway)
OR
When: Thursday, May 14, 12:15 p.m.
Where: Woodstock and Area Community Health Centre, 35 Metcalfe Street, Woodstock
We apologize, but this video has failed to load.
Happy Healthy YOU
Back to video