9th Annual Plant and Garden Auction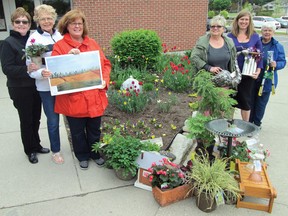 Article content
All are welcome to the Tillsonburg Horticultural Society's 9th annual Plant and Garden Auction on Tuesday, May 19, at the Tillsonburg Community Centre's Lions Auditorium.
Doors open at 5:45 p.m., and the live auction begins at 6:30 p.m.
You will find annuals, herb plants, tomato plants, trees, shrubs, perennials, garden items and more.
There will also be a home-baked goods sale, book sale – featuring garden and plant books, as well as special Bargain Toonie and Fiver Cash Tables, and a draw prize table with unique home and garden decor items.
"A critical thing to know is that it is cash only," said Judi Misener, president of the Tillsonburg Horticultural Society.
"We will have items for sale as well as a live auction."
Admission is free.
"More than 60 businesses and organizations have donated for our draw table and the auction, including gift certificates. The garden related items go to the live auction."
Proceeds from the Plant and Garden Auction help support the half-dozen local gardens looked after by the horticultural society, including the one planted and nurtured in front of the community centre's Senior Centre.
"We provide a scholarship to Glendale graduates, we run the Junior Gardening program, we contribute to the Tillsonburg Fair, and we also partner with the BIA for the hanging baskets on Broadway.
"So we call it a win-win," Misener smiled. "Tillsonburg gets more beautiful and the people's individual gardens do as well."
We apologize, but this video has failed to load.
9th Annual Plant and Garden Auction
Back to video