Thunder in the hunt for WOAA league title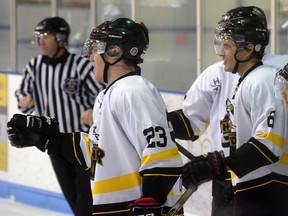 Article content
It's been a long time coming for the Tillsonburg Thunder.
But now that they're in the WOAA Sr. AA Hockey League finals, they've got no plans to get content and just be happy they're there.
After defeating the Tavistock Royals in the South Division finals, the Thunder will play the Mapleton-Minto 81's in Game 1 Saturday at 7:30 p.m. in Tillsonburg.
"As a team, it's huge," Tillsonburg general manager Bill Ryan said of advancing to the league finals. "We've been to the (South Division) final series three other times... like any league with a lot of teams it's a challenge to win the league and then the overall championship. It's big for a team both on and the community off the ice."
In the first time in the seven years of the Thunder's existence, they'll face off against a team from the WOAA's North Division.
While it'll be the first time the two team's have played, Game 1 might be a bit of a feeling out process as each team heads into the series blind to what the other's capabilities are.
"All we've had to look at is the stats online and talking with the refs and linesmen since they do crossovers. Unless you're driving up there you have to go on stats," first-year head coach Brad Wilkins said. "Their power play seems to be strong and you have an idea what players to watch for."
Ryan noted that with the hockey universe being as small as it is, players have crossed paths at some point but that how they play as a team is a bit of a mystery until the first game.
"With Mapleton there's three or four guys who played with Monkton before they folded, there's a few other guys we know," Ryan said. "There's a familiarity and they all cross paths during junior hockey and some of them have played with one another at some point.
"We keep an eye on the other side all year long and what players are doing well," Ryan added. "What we don't know is the intangibles like the quality of play, intensity and the systems they bring."
Both teams went 8-2 in the playoffs, with Mapleton averaging 4.40 goals a game to Tillsonburg's 4. But the Thunder boast a 2.30 goals against average to the 81s 2.50 GAA. Tillsonburg finished first in the South Division with an 18-5 record as Mapleton ended in third spot in the north going 17-7. Of course, with the north and south divisions not playing crossover games in the regular season, it'll be difficult to know how each team matches up with one another the series begins.
Each team has build up good momentum heading into the finals with Mapleton winning their opening series in six games over the Saugeen Shores Winterhawks and then swept the Elora Rocks in the North Division finals.
The Thunder opened their playoffs by sweeping the Clinton Radars in four games. They won the South Division finals in six games over Tavistock and are hoping momentum continues to go their way.
"All six games were intense, especially the first three," Ryan said of the Tavistock series. "There was some real back and forth and I think it put the players in the right mindset of execution to play in the finals."
Tillsonburg has made it to the South Division finals their fair share. They lost to the Komoka Classics last year, who then went on to defeat Mapleton in the WOAA finals, and also made it in 2011 against the Monkton Wildcats and 2012 against Tavistock.
While they added key pieces for the 2014-15 season, Wilkins said the team's fit with one another seamlessly.
"The guys have really come together. You never know what you're going to get when you mix a few teams together," he said, referring to several players from Komoka being added by Tillsonburg after the Classics folded last year, "but the Komoka and Tillsonburg guys have gotten along. If you have a good dressing room, it helps the team on the ice.
"We've got 12 solid forwards. Our top six defence is good at moving the puck and I think we're a deep team," Wilkins added. "We'll make adjustments as we go."
This season, a major difference for their success has been depth. It's what they've relied on all year, and what they hope will bring a championship back to Tillsonburg.
"We've never been as deep as we are this year," Ryan said. "We've had some very good teams other years and good players, but this year we seem to have that extra group of guys that give us that needed depth."
CHAMPIONSHIP SERIES
Game 1: Saturday March 21st in Tillsonburg at 7:30 p.m.
Game 2: Friday March 27th in Palmerston at 8:30 p.m.
Game 3: Saturday March 28th in Tillsonburg at 8:30 p.m.
Game 4: Friday April 3rd in Palmerston at 8:30 p.m.
Game 5: Saturday April 4th in Tillsonburg at 7:30 p.m. (if nec)
Game 6: Tuesday April 7th in Palmerston at 8:30 p.m. (if nec)
Game 7: Thursday April 9th in Tillsonburg at 8:30 p.m. (if nec)
*Tickets in Tillsonburg are $10 for adults and $6 for kids
We apologize, but this video has failed to load.
Thunder in the hunt for WOAA league title
Back to video