Norwich fire chief feels he's coming home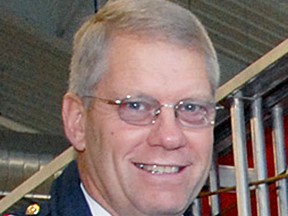 Article content
Norwich Township's new fire chief said it's like being home again as he returns to the local fire service after having once been a volunteer at the Otterville station.
"There's been lots of good response from fire fighters and people who were here when I left," said Paul Groeneveld, who's been in the chief's office for a month now.
Groeneveld was at Station 1 (Otterville) in 1984 where he volunteered, and became captain in 1986, then a district chief in 1994.
"I had an interest in the fire service and I was with the (Ministry of Transportation) for 15 years, driving back and forth to St. Catharines," he said, who lives east of Tillsonburg with his wife.
So when the chief's position became available in Bayham Township, Groeneveld made the decision to change his career. He was there until 2010, when he was named fire chief in Malahide Township, where there are four stations and about 100 fire fighters - very similar to the fire service in Norwich Township.
Groeneveld said he applied for the Norwich Township position to "come back home," and "finish where I started, type of thing." He doesn't anticipate any further career changes before his retirement.
Groeneveld is always prepared to attend fire calls to make sure the scene is operating smoothly and make any support calls needed.
"I see my role in a call to support the fire fighters," said Groeneveld.
Most of his day though, is spent on administration work, making sure all the fire fighters' training records are up to date, completing documentation, bylaw enforcement and conducting safety inspections. He'll also be looking at the recently released fire service organizational review to see if any of the many recommendations in the report can be implemented.
Groeneveld's goals are to focus on public safety and fire prevention, including bringing fire safety and prevention messages to school students.
We apologize, but this video has failed to load.
Norwich fire chief feels he's coming home
Back to video