Youth support Walk for Memories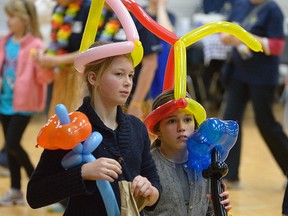 Article content
Tillsonburg's Zoey Papadakos, 11, and Clare McCormick, 13, are both fundraising for the 2015 Walk For Memories on Saturday, Jan. 24, an annual fundraiser for Alzheimer Society of Oxford.
As of Friday morning, Papadakos had raised $240 and hoped to surpass the $600 when she walks Saturday morning from 9-11 a.m. at the Tillsonburg Community Centre's Lions Auditorium.
"I go to my friends and family, and sometimes I go door-to-door to people I know," said Papadakos, who also receives donations from customers at Corey's Restaurant who know of her – and her family's – Alzheimer's fundraising.
McCormick had some catching up to do to match her long-time friend.
"I just found out I was raising money the other day," McCormick smiled. "I'm hoping around $600... to get in the $600 Club. If you raise over $600 you get to go for lunch."
Despite their young years, both have a lot of experience in the fundraising department. Papadakos has been raising money to support Walk For Memories for the past four years, while McCormick, with her family has been involved in the event for at least the past five or six years.
"I've raised a little more than $600 twice," said Papadakos. "I don't find it that hard (to get $600)."
The official numbers provided by Shelley Green of Alzheimer Society of Oxford, back that up. Papadakos, who started in 2011, has raised a total of $2,250 in four years.
McCormick, who started raising money 'solo' for the 2013 Walk, has raised $600.
"We also raised money as a team," McCormick noted.
"My mom started walking first and raising money, and then I just started it," said Papadakos, who has relatives on her mom's side with Alzheimer's. "My mom's aunt had Alzheimer's, and my great-grandmother."
"My grandpa just passed away three years ago – he had Alzheimer's," said McCormick. "Also my great-grandmother... different sides of the family. My parents have been doing the walk forever, so I just followed in their footsteps.
"I never really knew him when he didn't have Alzheimer's," added McCormick. "In later years, he started to not talk. And he got confused."
"They don't remember stuff," Papadakos nodded. "They lose their memories."
The indoor Walk for Memories is a 'non-distance' event. Participants are not required to walk a certain distance, nor do they keep track of laps around the Lions Auditorium. But both McCormick and Papadakos try to be active walkers during the event.
Costumes or team uniforms (shirts) are common, but the girls were unsure whether they would have one this year.
"One year me and Clare made shirts," said Papadakos.
"We were the Yellow Team," McCormick nodded.
Promoted as a fun family-oriented event, the Walk For Memories attracts participants of all ages, from young children to senior citizens. Papadakos doesn't remember it, but one year she pushed a doll stroller with her brother's Transformer in it.
"People tell me about that year," she smiled.
"I remember the first year me and Zoey were going together because we were best friends," said McCormick. "It was quite a while ago."
The number of kids each year varies, said McCormick.
"It depends on the year, some years there's about 30 kids. They're on family teams. That's what I did for years."
"I don't think a lot of kids raise money, but they walk," said Papadakos.
"We really want to encourage families to come out – it's a fun family event," said Green. "So people of all ages are welcome."
Green noted that over the past 20 years in Tillsonburg, McCormick and Papadakos have raised the most money in their youth category.
"It's really outstanding to see two young girls taking such an interest in showing compassion for people with Alzheimer's and dementia. They're really an example of what we can all do."
Walk for Memories is celebrating its 20th anniversary in Tillsonburg this year.
"We welcome anyone of all ages to come and walk, have fun, and be part of showing people in Oxford County that are living with Alzheimer's or dementia our support for them," said Green.
"All the money stays in Oxford County to support our programs and services. And a good percentage of our clients are from Tillsonburg, and all of our services are provided in Tillsonburg as well. So we're in Tillsonburg quite a bit offering services in people's homes, support groups, and education. We have a number volunteers in Tillsonburg who go into the homes of people with Alzheimer's and dementia and provide companionship."
For more information on the Walk for Memories, or Alzheimer Society of Oxford, call 1-519-421-2466 or 1-877-594-2386, or email info@alzheimer.oxford.on.ca.
We apologize, but this video has failed to load.
Youth support Walk for Memories
Back to video