Tillsonburg Indoor Soccer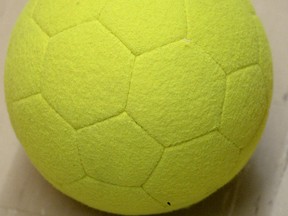 Article content
Ches Sulkowski - Tillsonburg Indoor Soccer
Week Ten
Thursday, Jan. 8
Courtland Gardens 11, Danbrook Auto 10
We could call this one a bit of an upset, as Courtland records their 2nd win of the season, coming back from and early 1st half 6-4 deficit. They rallied late in the 2nd to steal the points as rookie Greg Vanwynsberghe bangs home a season high six markers, followed closely with four from Tyler Harvey and single by Trista Langrell. The Auto crew got four from Matt Davis and hat tricks from Nichole Danbrook and Mike Beal.
Tillson Pizza 14, Kraushaar Machine 2
Our 2nd game was a bit of a mismatch as Pizza jumped out to a 5-1 1st half lead and then pounded out another nine in the 2nd. The Pizza crew big gunners were Koert Vanittersum and Stephan DeGroote with four apiece, followed by doubles from Devon Schuurman and Aalt Pelleboer and singles by Marlon Ramirez and Garret Schuurman. Kraushaar got singles from Nick McDonald and Ed Michalek.
Wednesday, Jan. 14
DoneRight Landscaping 10, Courtland Gardens 0
Wednesday's match featured another blowout as our top team showed little mercy on a short-handed Courtland crew who then threw in the towel before the 2nd even started. Scoring for the Landscapers were Max Evanitski with four, doubles from Erik Kok and Don Evanitski and singles by Nathan Matos and Stephen Richardson.
Ontario Laser 14, Corey's Restaurant 5
Our next game was another blowout as Laser cut out to a 8-4 1st half lead and then a 6-1 2nd half dominance to finish. Laser's big cutters were Ryan VanLeeuwen and Cedric Tomico with four apiece, followed by a hat trick from Nate Beard, double by Jakob Lennstrom and single from goalie Tyler VanLeeuwen. Corey's got their usual two from goalie Mike Mesquita and singles from Dimitri Papadakos, Mac Robinson and Selena Martinez.
Thursday, Jan. 15
Kraushaar Machine 6, Pettman 's Auction 6
Thursday's matchup featured a barnburner of a game as Kraushaar came back from a 4-3 deficit and stole a point from the Auctioneers. The Machinists got two from Cody Kraushaar and Robert Butchey and singles by Mike Thompson and Nick McDonald. Auction got a hat trick from Gerrit Pelleboer, double by Aaron De Jong and single from Rudi Vanittersum.
Tillson Pizza 5, Computer Station 2
Pizza continued their winning ways but it was not an easy game and held onto a slim 2-1 1st half edge. The 2nd half was just as defensive edging them out with a close 3-1 difference. Pizza's Stephan DeGroote got two, followed by singles from Garret Schuurman, Aalt Pelleboer and Marlon Ramirez. Computer got both goals from Andy Metselaar.
The Annual Indoor Soccer Tourney is Saturday, Feb. 21... pending Board Approval??
Tues. Jan. 20: Danbrook Auto vs Signshop; Poultry vs Laser
Wed. Jan. 21: DoneRight vs Verne's; Signshop vs Auction
Thurs. Jan. 22: Poultry vs Courtland; Computer vs Corey's
Tues. Jan. 27: Poultry vs Kraushaar; Tillson Pizza vs Auction
Wed. Jan. 28: Danbrook vs Computer; Verne's vs Courtland
Thurs. Jan. 29: Laser vs Auction; Corey's vs DoneRight
We apologize, but this video has failed to load.
Tillsonburg Indoor Soccer
Back to video