It's Still Just Dirt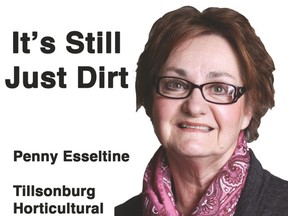 Article content
Penny Esseltine - It's Still Just Dirt
Right out of the gate, early in January, CFPL TV's former star meteorologist Jay Campbell came to talk to the Tillsonburg Horticultural Society about weather. Weather can be a preoccupation for area residents especially during the winter months, but for gardeners, it's of year-round interest.
Jay says weather is what happens daily and is measured every hour. You can retrieve extensive information about weather in newspapers, on radio and on TV, or online at the Weather Network. There's an easy link to that from the Tillsonburg Horticultural Society website tillsonburghorticultural.ca.
"Climate," on the other hand, Jay says, "is based on a 30-year average of parameters and is updated every 10 years. The global temperature has been increasing 0.5 degrees centigrade every year since 1973," Jay says. "We are getting significantly warmer."
Some people use folklore to forecast the weather. Things like if the cows are laying down in the field it's going to rain. There's red sky at night, sailor's delight. Ring around the moon, rain will come soon, is another. Jay says if you count the number of stars inside the ring that will tell you the number of days before rain will come. "I have always been fascinated by folklore," Jay says. "I have thousands of them."
Meteorologists on the other hand use any number of instruments including thermometers and barometers. A hygrometer measures humidity and an anemometer measures wind speed. Weather balloons measure weather higher up in the atmosphere and weather satellites track large-scale air movements.
Many factors affect the weather. Extraterrestrial forces is the big one, Jay says. Others include volcanoes, ocean currents and lunar activity, acid rain, ozone depletion, the orbit of the earth, comets and asteroids and greenhouse gases.
For weather specifics we can look to publications like the 2015 Farmers Almanac which gets its information from Environment Canada's Climate Services. The almanac says that the growing season length in nearby London is 151 days. The last frost of the spring is expected on May 9 and the first frost of the fall on October 8. Unfortunately this information has not been updated in many years. It's based on 1951-1980 norms.
Similarly, the Canadian Plant Hardiness Zone Map was revised in 2000 using weather data from 1961-1990. This map places Tillsonburg in hardiness zone 6A. Zone 6A plants will tolerate temperatures as low as -17 to -23 degrees celsius. Often gardeners in our area use zone 5 as our guideline. Perennials from zone 6 will likely be sold as annuals here since they aren't guaranteed to last the winter. Seed packets and catalogues usually indicate zones for trees, shrubs and flowers.
Looking ahead through 2015 Jay predicts that spring temperatures in March, April, and May will be near normal, possibly slightly higher than normal, but precipitation is expected to be lower than normal. This can result in dryness in the soil. He says he expects June, July, and August temperatures to be above normal.
Jay says Grandma Campbell got him interested in forecasting weather.
"I still look at it everyday and I'm always optimistic about the weather. I have four favourite seasons. There's always something good."
For gardeners for whom weather is always of interest too, we can listen to the forecasts, use weather instruments of our own, and rely on climate statistics. As well, coming up on February 2, we can watch for Wiarton Willie (the albino, weather-prognosticating groundhog) and his forecast for spring this year.
The Tillsonburg Horticultural Society meets the first Tuesday of the month at 7:30 p.m. in the Senior Centre Auditorium at the Tillsonburg Community Centre. An annual membership in our group cost $15 and comes with a number of really excellent benefits. Check us out on line at tillsonburghorticultural.ca.
We apologize, but this video has failed to load.
It's Still Just Dirt
Back to video