Training for triathlon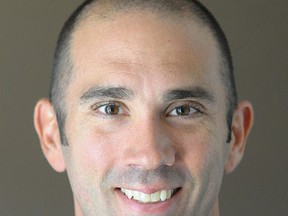 Article content
George Papadakos - Tales in Triathlon
Through my eight-year career in triathlon and in multi-sport I have learned that if you want to keep doing what your doing, you've got to take care of yourself.
I'm not just talking about eating right, training well, getting lot of sleep and saying your prayers (although I think it helps). The physical demands that we put on our bodies creates stress on muscles, tendons, ligaments, bones and more importantly our spine.
We have to take a more proactive approach to healthy living to extend our longevity in our sport, or in life for that matter. That is why I try to see a chiropractor regularly.
In the past I was very skeptical about chiropractic care, only because I was not informed of all the great things they can do. The old notion that chiropractors were "back crackers" made me nervous to go and see one. But let me tell you I was amazed at what a few sessions have done for my performance and overall health.
The spine is a very complex part of our body, and one that we take for granted until that dreaded day when bending over to pick something up, or even walking becomes a gut wrenching experience.
Our spinal column is made up of 24 independent articulating vertebrae, and it is through these that we humans are able to move, twist and bend during our busy lives.
It also encases and protects our spinal cord and all the nerve tissue that carry the communication between our bodies and our brain.
When two or more vertebrae aren't working together as efficiently as they should this is called a subluxation. A subluxation is a partial dislocation or misalignment of the vertebrae that most chiropractors will regard as the cause of many health problems.
If left alone these subluxations may decrease your mobility, cause some pain and discomfort, as well as inhibit communication between you body and your brain.
Thankfully with some regular chiropractic care these geniuses can help you stay on the right track health wise and suggest ways to keep performance levels where we need them to be.
Other benefits that chiropractic care can help with are headaches, neck and back conditions, stress and tension disorders along with arthritis and other chronic injuries.
Our bodies are wondrous things that allow us to do the ordinary, to the extraordinary, and I feel we owe it to ourselves to be as healthy as possible. Most chiropractors have extended hours and don't require a referral from a physician.
Everyone from growing children to all those super seniors can benefit from chiropractic care.
Until I meet you at the start line, stay safe and have fun!!
We apologize, but this video has failed to load.
Training for triathlon
Back to video