Tillsonburg adds three new councillors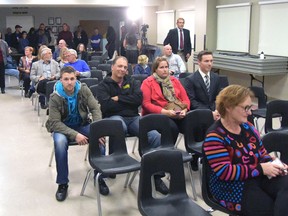 Article content
There will be three 'new' councillors, a 'new' deputy mayor and 'new' mayor when Tillsonburg Council reconvenes in December after Monday's Municipal Elections.
'New' being a relative term, of course.
Stephen Molnar, who topped the mayor's ballots, had served as Tillsonburg's mayor from 2003-2010. Dave Beres, a veteran five-term councillor and interim mayor since John Lessif resigned in April, was elected deputy mayor. Jim Hayes, one of Tillsonburg's newly elected councillors, had a lengthy term with South-West Oxford Council both as councillor and mayor before moving to Tillsonburg two years ago.
All results announced Monday night at the Tillsonburg Community Centre were to be considered unofficial until verified by Returning Officer Donna Wilson on Tuesday.
"It was close," said Brian Stephenson, who was re-elected as councillor with 2,172 votes. "You never know, you just never know.
"When somebody asked me, and people kept asking me, 'who's going to win?' I kept saying, 'I don't know.' And that," he said, nodding toward the posted results, "showed it. There was what, a couple hundred votes between all three (mayor) candidates? Less than 200."
Chris (Chrissy) Rosehart also returns as councillor, garnering 2,624 votes.
They will be joined by first-time candidates Max Adam, who led the councillor polls with 2,858 votes, and Penny Esseltine (2,702).
"It's going to be a learning curve with new people," said Stephenson, looking forward to budget deliberations, which begin in December. "Jim knows what it's like, but it'll be a learning curve for Penny and Max. It's just orienteering, getting people ready."
The campaign turning point, said Adam Monday night, was the Tillsonburg District Chamber of Commerce All-Candidates Debate less than two weeks before election day.
"I was well-received in every neighbourhood," he said. "People were generally open, happy to meet me and talk a bit. I did get around town to most places at least once. But you don't see everyone, maybe 30-40 per cent of the people aren't home and you leave a card hoping for the best."
He felt his performance at the all-candidates debate, shown by Rogers, put him over the top.
"I think the debate was, as they say, the 'TSN turning point' for me. I feel like I did have some support, but after the debate I felt it changed for the better. A lot of people came up to shake my hand afterward and said they thought I did a good job. And in the week-and-a-half afterwards, in different neighbourhoods, I met people who would say, 'I heard you did good in the debate.' Definitely, it was a turning point."
Despite being 'new', Adam said he's not walking into it completely unprepared. His educational background and experience gained sitting on committees and boards gave him some insight into what municipal governance is all about."
The orientation begins in November, he said, and after two-three more months solid reading he'll be jumping in with both feet.
"After that point, I think it's just getting comfortable with procedures, and a lot of that is covered in the orientation, and I'll be asking a lot of questions, that's for sure."
Beres said he firmly believes the biggest campaign issue was the town's utility, Tillsonburg Hydro Inc.
"I stood firm, that asset should be retained to be controlled by the town. Does it need fixing? Absolutely. Will the dividend disappear for a short time? It will until the utility gets repaired, in terms of productivity and practicability, but the service will remain at an affordable rate."
Beres is also looking forward to getting into the budget process.
"We have three new people bringing their thoughts and ideas to the table. We look forward to sharing those synergies, to come up with a budget that's in the best interests of the town for the future."
MAYOR
Stephen Molnar 1689
Marty Klein 1519
Mark Renaud 1491
DEPUTY MAYOR
Dave Beres 2826
Mel Getty 1794
COUNCILLOR
Max Adam 2858
Jim Hayes 2739
Penny Esseltine 2702
Chris Rosehart 2624
Brian Stephenson 2172
Jim Van Rybroeck 2037
Richard Miggens 1757
Roderick Van Riesen 1599
We apologize, but this video has failed to load.
Tillsonburg adds three new councillors
Back to video