Siemens Canada partners with Halton Learning Foundation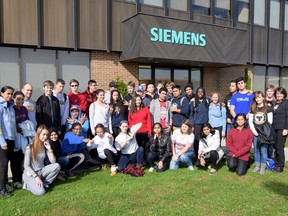 Article content
Siemens Canada recently announced a partnership with Halton Learning Foundation.
Halton Learning Foundation is a charity that enriches educational opportunities and eliminates economic barriers to learning for Halton District School Board students. The partnership aligns with Siemens' goals to foster the development of young people and encourage future technology-related careers. In addition to a $15,000 donation by Siemens, the program provides student mentorship and guided tours of Siemens manufacturing facilities.
Siemens' donation directly impacts students who require additional financial assistance as well as supporting a new 'state-of-the-art' Advanced Manufacturing and Robotics program at Oakville's Garth Webb Secondary School. Both programs give students the opportunity to specialize, gain qualifications, and plan a career path in various areas of the manufacturing sector, while still in high school.
Students had an opportunity to visit Siemens' manufacturing facilities to learn first-hand about the typical work day. The first trip to Siemens' wind turbine manufacturing facility in Tillsonburg was conducted Friday, Oct. 24. In addition, Garth Webb students will be invited to Siemens Canada's Oakville head office on Nov. 5 for Take Our Kids to Work Day.
"We are very proud to partner with Halton Learning Foundation, to foster the development of young people and enhance their educational opportunities," said Robert Hardt, president and CEO of Siemens Canada Limited, in a media release. "This program allows us to engage our employees, mentor and encourage our future generation to pursue technology-focused careers."
From November, Siemens Canada employees will volunteer their time to motivate, guide and mentor students at Garth Webb Secondary School. Volunteers will lead Grade 11 and 12 career and law classes providing valuable insights into the working world, and the changing technologies that are shaping the future.
"Engaging students in technological education programs is one of the most important factors in creating tomorrow's highly skilled workforce," said HLF's David Lewis, coordinator, Technological Education and Pathways, New Street Education Centre. "This generous donation and support by Siemens Canada will go a long way in creating an engaging environment for our students, while also fostering a very positive partnership between education and the workplace."
Siemens Canada
Siemens Canada has 46 offices and 18 manufacturing / assembly facilities across Canada, employing more than 4,500 people. Sales for Siemens in Canada in fiscal 2013 were $2 billion CAD.
We apologize, but this video has failed to load.
Siemens Canada partners with Halton Learning Foundation
Back to video