Sex Please, We're Sixty opens at the Otter Valley Playhouse Nov. 6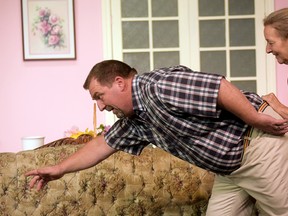 Article content
Local director Sandra Andrews says the Otter Valley Playhouse production of Sex Please, We're Sixty will appeal to anyone who is an adult.
"Funny is funny no matter what age you are," said Andrews.
"I think the title is going to sell it. I have friends coming from Brampton, from Windsor, just because they like the title."
She smiles, "Of course I told them it's a How To..." adding with a laugh, "It's not. Nothing actually happens. It's just... suggested. It's real fun – especially the second act. The two men in the second act are hilarious."
The adult comedy Sex Please, We're Sixty will run at the Otter Valley Playhouse (Potters Road) Nov. 6-9 and Nov. 13-16.
"Three single women check in to a Bed and Breakfast," said Andrews, noting the 'action' takes place at Mrs. Stancliffe's Rose Cottage B&B. "The next door neighbour is an aging Casanova. There's also another neighbour and he's trying to talk the owner of the Bed and Breakfast into marrying him – he's been trying for 20 years."
Not wanting to give the story away, Andrews says 'the women turn the tables on the men.'
"It comes to a happy ending," she smiled.
The script follows the cast of six for two days, played by Lynda Nevins, Pete Matthews, Rita Weiler, Laurie Deven, and two newcomers to the stage, first-time actors Fred Dupon and Pamela Simmons.
"It is great – there are no scene changes," said Andrews. "The set was kind of hard because we have all these bedroom doors and a raised area for the breakfast nook, but it's easy in the sense that you don't have a lot of props that you need to move around."
Andrews gave big props to their prop creator, set designer and stage managers.
"We have a wonderful prop lady – Pat Linn – and our set design was done by Anne Corcoran. Our stage manager is Janet Orr and assistant stage manager is Mike Koola."
Opening night is Thursday, November 6th, at the Otter Valley Playhouse on Potters Road at 8 p.m. (Note that both Sunday shows are 2 p.m. matinees). As a special feature on the 6th, there will be a meet and greet with the actors after the show and refreshments.
"We're getting there," said Andrews at Sunday's rehearsal. "You're always tearing out your hair at dress rehearsal... then opening opening night, everything's fine. It just happens."
Ticket sales have traditionally been a little slow for opening night, she said.
"We're hoping to get more people. For some reason, in Tillsonburg, people wait to hear what their friends think about it, then in the second week we're sold out and people say, 'can you put on another show?' No, sorry, we can't because we only have the rights to do a specific number of shows."
Otter Valley Playhouse's Sex Please, We're Sixty is produced by Matthew Scholtz.
For tickets call the Theatre Box Office (519) 688 – 3026. More info available at Theatre Tillsonburg's website, www.theatretillsonburg.com.
We apologize, but this video has failed to load.
Sex Please, We're Sixty opens at the Otter Valley Playhouse Nov. 6
Back to video