Rotary Club marks World Polio Day at book fair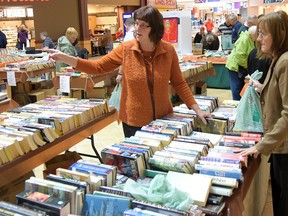 Article content
Rotary Club of Tillsonburg recognized World Polio Day during its Book Fair at the Tillsonburg Town Centre on the weekend.
A donation jar available Friday at their World Polio Day display had "a lot of donations," said Tillsonburg Rotary president Ann Kamenar Saturday morning.
The fair funds several Rotary Club projects, including the Polio Fund and youth exchange programs.
"Last night (Friday) I handed out seven scholarships at Glendale," Kamenar noted.
Funds also support the Rotary Clock Tower on Broadway.
"And we'll be here again next year," said Kamenar, adding with a smile, "E-readers haven't taken over the world. I think a lot of avid readers still want the touch and feel of a book."
Books for the fair were donated, and Kamenar thanked everyone who contributed.
"We were a little nervous about a month before... but donations were awesome. The community was really generous giving us books. And every kind of book. Autobiographies, fiction – every genre of fiction.
"And a lot of people have been generous in buying the books, because if people had change left over, they've been donating it."
A big part of the Book Fair is promoting literacy, another focus for the Rotary Club.
"We have young families here buying books they normally couldn't afford."
ROTARY INTERNATIONAL
Rotary brings together a global network of volunteer leaders dedicated to tackling the world's most pressing humanitarian challenges. Rotary connects 1.2 million members of more than 34,000 Rotary clubs in over 200 countries and geographical areas. Their work improves lives at both the local and international levels, from helping families in need in their own communities to working toward a polio-free world. In 1988, Rotary was joined by the WHO, UNICEF and the CDC to launch the Global Polio Eradication Initiative.
Visit rotary.org and endpolio.org for more about Rotary and its efforts to eradicate polio.
We apologize, but this video has failed to load.
Rotary Club marks World Polio Day at book fair
Back to video