Halloween history tour at the Tillsonburg Pioneer Cemetery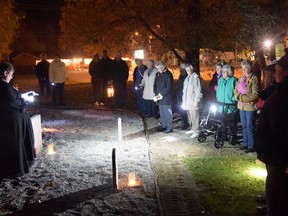 Article content
Another municipal election season safely passed on Monday, unlike the year 1858 when John Hopkins died in a Tillsonburg pre-election riot.
Laurel Beechey, who conducted two evening Halloween History tours at the Tillsonburg Pioneer Cemetery on the weekend, called Hopkins' tombstone story Death by Election.
"There was a rally going on in a building and the opposition party did not want the speaker to continue, so they rushed the podium and the floor collapsed. About 150 people went down 20 feet into the basement, along with all the floor. John Hopkins died, and another man, Lancelot Waller died a few days later."
Death by Election was one of a dozen stories Beechey shared Friday and Saturday nights, to a group of about 25 people, both nights, who purchased $10 tickets from the Annandale National Historic Site, and afterward enjoyed refreshments (pumpkin pie) at Annandale House. Jason Pankratz set up the tours and arranged for tombstone candles each night.
"People seemed quite pleased with it," said Beechey, who was concerned her script-reading presentations might not be 'Hollywood' enough. "They seemed to appreciate the amount of historical information. One of the families told it was one of the better tours they've been on because other ones were either trying to scare them, or they really didn't know much about the tombstone and who was there.
"I think I was surprised at how interested people were in the details. Unless it was an actual family member, I didn't think people would be as interested in the details of their lives. Afterwards, back at Annandale House, both nights, I talked to people who wanted to know 'how do you find all that information?' and 'why did this happen?' and 'why did that happen?' I was really pleased with their reaction."
Deaths of babies, in particular, bothered people.
"You could see the emotion," said Beechey. "You could see as soon as I said, '1860 was a bad year...' it was 'ohhh dear....'"
For some of the Halloween Tour participants, it was their first visit to the town's Pioneer Cemetery. And some of them want to go back in the daytime, Beechey noted.
"It's amazing how many people in town have not seen it, or have no idea it's even there."
We apologize, but this video has failed to load.
Halloween history tour at the Tillsonburg Pioneer Cemetery
Back to video