Two Cents Worth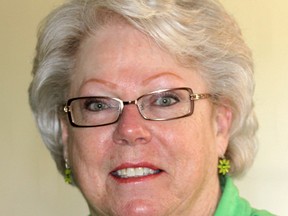 Article content
Friday was the fifth full day of fall and hasn't it been wonderful.
I like the autumn season best of all. It just seems so much less hectic. Not that there isn't much to do – clean out gardens, put away outdoor furniture, rake leaves, clean out closets and dispose of unwanted clothes, wash windows, maybe finish up some minor renovations. It's all a lot of work but it seems to be done at a more relaxed pace. Raking leaves can be burdensome but it's a short-lived chore unlike cutting grass, which for me is challenging and seems to go on forever.
Fall is a time for reflection and contemplation. We consider what we accomplished this year, relive the highlights and determine how to adjust, avoid or eliminate the not so great events. We ponder future aspirations, what we hope to achieve, complete or start for next year. We have already started using terminology like, "Come spring, I will…"
Some of us appreciate the cooler weather because those bulky sweaters and coats not only provide warmth but they are more efficient at hiding a multitude of sins shorts and T-shirts just can't. And working out on that treadmill is so much more effective and efficient; you can exercise and keep warm all that the same time.
The one thing I don't like about cooler weather is socks. Those days of just slipping bare feet into sandals, clogs, thongs or ballet slippers is past. Now we have to dig out our sensible shoes and boots and put on socks. I prefer the freedom of bare feet, unrestricted toes.
At this time of contemplation, things come to mind that normally don't find a spot in the busyness of spring and summer life. Remember when we had toothpaste in metal tubes and you could roll them up from the bottom to push the contents up to the top. Somewhere along the way they began using plastic tubes and they won't stay rolled up. You can roll them up but by the next time you want to brush it has not only unrolled, but jammed up the drawer. Now we have to buy a gadget to maintain the roll. I just use a clothes pin. It must be one of those annoying money things.
I want to remind all the candidates in the election that it is their responsibility to remove all the colourful signs from our landscape in a timely fashion. They do add a splash of colour along the roadway, a bit of a distraction to be sure but nonetheless colourful.
I wondered how the candidates determine their choice of colours for their campaign. Do they consult with each other so they don't pick the same? Do they have colour consultants who tell them what colours evoke what kind of response? Or is it first come first served at the printer? Does the printer of election signs have a master list and when someone comes in they are shown the available colours and which colours their opponents have already chosen?
Some are more attractive and more eye-catching than others. The yellow seems to be popular. We have signs in yellow with black writing in our township and I noticed in Tillsonburg there are yellow signs with black writing and black signs with yellow writing.
I may need to check that out. Or better yet, get my mind busy on more important things.
We apologize, but this video has failed to load.
Two Cents Worth
Back to video