The World is a Stage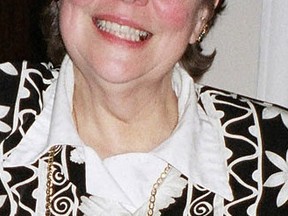 Article content
Some people get spooked having to go downstairs into an old, creepy basement. Is it the musty, dank smell and black, secret corners that instil that fear?
Others get creeped out in an attic, where every step nerves are frayed by the squeaky floorboards and by walls of spider webs spread between the broken and unwanted pieces of someone's past.
To some, graveyards are a place to avoid – day or night – for they may be visited by apparitions of unsettled souls.
Tell me, do you believe in ghosts?
What has happened in the lives of those who wander after death? Are they condemned to eternity on earth because of a horrendous crime they committed? Or perhaps there was a sordid act that was committed against them that demanded revenge? We have one of those in our Pioneer Graveyard, where one 16-year-old boy stabbed and killed a 15-year-old boy at school. Does John wander the graveyard looking for retribution? But did he not get it when Wesley was charged with manslaughter?
Do you think that our founders, Nancy and George Tillson's spirits, wander the graveyard perhaps looking for the spirits of their children and grandchildren that died before they did? They have more reason than most, especially if supreme sorrow counts. In four years they lost four daughters, Tamsen, Hannah, Harriet and Catherine, one son, Benjamin, and four grandchildren, Loren and Elvira Hogan and Joseph and Julia Charlotte Van Norman.
One of those children, Tamsen Tillson, was the first to move into our silent city. A young vibrant girl of 20 cut down by consumption (tuberculosis) just before her marriage to Louis Leonard. Did she wait for him to put flowers on her grave?
Does she still wander the old roadways of this graveyard trying to find Louis?
Many hotels claim to have ghosts wandering their corridors, but what happens to those ghosts when the building is razed and a bank takes it place? Our Queen's Hotel had several fires but the 1897 fire resulted in the deaths of Miss Jessie Gray, of Tillsonburg; Clarence Bernard of Toronto and Thomas Wheatly of Clinton. Did they roam the halls of the subsequent business which were built on the hotel property? Has our Royal Bank today had apparitions or strange happenings? Perhaps Clarence or Thomas pilfered the tills at night in retribution of their fiery deaths?
Professor Bird, the black barber on Broadway, was the only member of his family who came to Tillsonburg that left Tillsonburg alive. He fought in the US Civil war for the north and his wife was a slave in Virginia. During the war they started their family, and once Ellen was free they moved to Philadelphia where he barbered. After 1870 they left for Tillsonburg. We don't know why they came here and not to one of the larger black communities surrounding us. We know they arrived after our 1871 census but were here well before Sept. 10, 1874 when one of their children died. We do have a tombstone for this child but the tombstone, after being buried for several decades, broke right across the little one's name. In late 1876 they had another baby, Ellwood, but the joy of that birth quickly died with the death of their 12-year-old daughter Elizabeth near the beginning of February 1877. Then 28-year-old mother Ellen died, and in June little Ellwood died. We have no information on their son George, who we presumed also died at this time. We recently discovered that daughter Martha did not die here but stayed in the US, although very young.
Within four months Professor Malachi Bird remarried another black woman from Ingersoll and moved to London, leaving his family in our Pioneer Graveyard. Did they look for him, upset that he deserted them so quickly? Were their spirits sated when he died only two years later in London?
When the autumn moon shines bright and the weather gets crisper, our thoughts turn more to spirits that roam. I have no answers, but you are welcome to come on Annandale National Historic Site's Halloween History Tour at the Pioneer Graveyard.
As not to interfere with the large All Hollow's Eve events, this tour will be Friday, Oct. 24 and Saturday, Oct. 25. There is an 8 p.m. start at the Pioneer Graveyard on the corner of Simcoe and Cedar Streets. There are only 20 spaces available each night on the tour and the cost is $10 per person. After the tour you will join us at Annandale House for refreshments and a chance to ask many questions.
Because of the restricted numbers in the tours, you must book and pay in advance. So call now, at 519-842-2294 and Patty or Marie will be happy to book you a spot and can take payment by credit card over the phone.
The tour has been arranged by Jason Pankratz who will host Saturday evening and Laurel on Friday. Please dress to the weather and bring a flashlight to guide you around the graveyard.
As to whether we have a hauntingly good time? Or do our silent-city residents still rest in peace? You will have to come to find out.
We apologize, but this video has failed to load.
The World is a Stage
Back to video