Second annual Mt. Elgin United Church ALS Walk helps raise money and awareness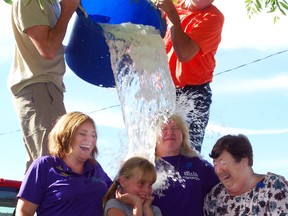 Article content
The second annual Mt. Elgin United Church ALS walk was bittersweet for participants.
The walk this year was dedicated to the memory of Shirley Lovell, a longtime Mt. Elgin United parishioner and community leader.
"I think in her humble way she would be very pleased. She would like to know that all her friends and family are coming together and sharing time together and raising awareness and funds to help others," Rev. Lynne Allin said.
Lovell was well known in the area, as she held the role of the curator of the Ingersoll Cheese and Agricultural Museum for many years, was a dedicated volunteer and wrote her own book of poems.
She died this past June of amyotrophic lateral sclerosis (ALS). She was diagnosed about four years prior to the first ALS Walk held at Max and Margaret Albright's farm near Verschoyle last year.
ALS is a rapidly progressive neuromuscular disease. Eighty per cent of people with the fatal disease die within two to five years of diagnosis.
Charlene Spector from ALS Canada said its events like the one held by the Mt. Elgin United Church that provide families with much-needed support.
"The disease is devastating and horrendous, but there are these happy events that pull communities together and provide support to families so they don't feel alone," Spector said.
The group of about 50 participants walked about 3.2 kilometres (two miles) through trails on the Albright farm. Those who couldn't walk had the option of going through the trails via horse and buggy.
The group reached their goal, raising more than $4,000. There was still money that needed to be counted raised through an impromptu ice bucket challenge.
Allin, Spector, Sierra Dempsey, 9, and Dianne Ashford all completed the ice bucket challenge. Spector said the viral sensation had done wonders for raising awareness of what the disease is.
"I think we are so blessed with the awareness that brought. So many people didn't know what ALS was and the money is so important to our researchers and the people living with ALS and their families. We are so grateful," she said.
We apologize, but this video has failed to load.
Second annual Mt. Elgin United Church ALS Walk helps raise money and awareness
Back to video