Bears earn two-game split at home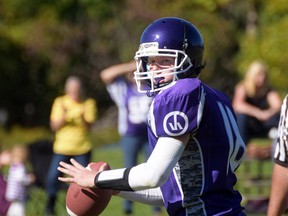 Article content
The Valley Heights Bears football team kicked off the 2014 Haldimand-Norfolk football season with a two-game home stand.
The Bears tackled Hagersville 47-0 in their Sept. 19th home opener, and lost 45-6 to Delhi Thursday afternoon.
"We moved the ball around well (against Hagersville), we weren't forcing it," said VHSS coach Dave Zakel. "We were in a comfortable position."
On Thursday the Raiders had that position going up 42-0 after two quarters.
"Today we were facing a little bit of adversity," said Zakel. "We started to force the ball and when you force the ball, things happen that shouldn't happen."
When the team settled down, said Zakel, they started to move the ball. Bears' quarterback Zach Thomas, who completed nine of 17 passes, connected with receiver Justin Young for Valley Heights' longest gain of the day, a 45-yard bomb that helped set up a late Justin Cridland touchdown.
The final score was not indicative of the overall game, Zakel told his team after the game, but stressed there are areas to improve.
"Blocking," said Zakel. "Doing the little things right. Blocking and tackling, that's what it's going to come down to. Basic football."
Delhi improved to 1-1 after a season-opening 23-20 loss to Caledonia.
"I kept reminding them that Delhi was going to be a different team, a different game. Coming off our 47-0 win we didn't have a great week of practice... but Delhi, facing adversity against McKinnon Park, losing, they were hungry for it."
Regardless of Thursday's result, the 47-0 win marked a step in the right direction for the Bears.
"It is a positive step," Zakel nodded. "We've got a lot of good things going on, we've got a lot of young kids coming out. And some senior kids who have never played before. They're stepping in, they're learning the game."
It's a long season, he said, "and the season's about learning. If we can find all our little weak spots and work on them, we're going to do okay."
Valley Heights will be on the road for its three remaining regular season games – Friday, Oct. 3 at Simcoe Holy Trinity; Thursday, Oct. 9 at Simcoe Composite; and Friday, Oct. 17 at McKinnon Park.
All eight Halimand-Norfolk teams make playoffs, with an east-west quarterfinal crossover scheduled Friday, Oct. 24.
We apologize, but this video has failed to load.
Bears earn two-game split at home
Back to video