The World is a Stage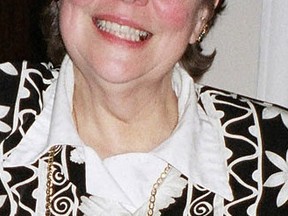 Article content
How did John Pound Road get its name? Because when George Tillson named the roads leaving Tillsonburg, he used the destination.
Simcoe Street goes to Simcoe.
Thus John Pound Road goes to John Pound's farm toward Aylmer. You now can see a photograph of John Pound, complete with bushy beard in Matt Scholtz's newest book Tillsonburg Album: A Photographic History.
Actually you get to see more than 500 photos, mostly black and white, some in colour, as well as maps and drawings. There is a chapter on aerial photographs which are quite interesting and fun to track the development of the town, especially the downtown core.
You can see the tree-lined streets, lined with homes on Harvey, Ridout St E. and Washington Grand Ave with the old Town Hall in the middle. Then see the same streets laid bare in 1977 as the purchase and expropriation of homes and business took place to develop the downtown mall.
A fun map is the coloured advertising map made in 1989. A company came to town and charged businesses, industries and individuals to put their names on a map. It was cartoonish and fun to pick out the ones which are no longer there.
Matt has divided the book into chapters which include Aerial Photos, Old Post Cards, and an article from the 1894 Saturday Globe (Toronto newspaper) on the town, Churches, Early Tillsonburg, Business, Events, Theatre, Downtown, Library, Schools, Early Days of Tobacco, Moments in Time of Tillsonburg, and People of Tillsonburg.
There is even a train schedule showing that in 1902, you could get on a train in Tillsonburg, and stay on that same train all the way to Kansas City!
Matthew noted, after producing his first book Tillsonburg Diary, that people loved looking at the pictures and decided to do a book with just pictures. Over the years he has collected old photos of our town, took photographs, and borrowed a few to produce this book.
Tillsonburg was extremely blessed to have photographer James Pollard who moved to town in 1871 and began taking photos not only of people, but our town. His son Fred took over preserving our history. There were of course many others taking photos as well, but the next photographer to be noteworthy in preserving our heritage was Gerald Elder. Matt was given many old photos by Gerald and had the perfect start to his book.
Organizing the photos for the book was not easy. Which ones to use, which to leave out. Do you do it chronologically or in groups like Businesses of Tillsonburg. Once started, the writer in him wanted to explain the photos and to give details of the people, however that could have led to a 4,000 page book, so he stuck to the original idea of letting the pictures tell the 1,000 words.
Other people in town lent Matt their photos of important events and people. After having the opportunity of reviewing the book prior to the official book launch, I would like to especially thank Fred Meulemeester for lending Matt the 2005 photo of Tillsonburg firemen gathered on and around their old fire truck No. 33. Did I mention they didn't have their shirts on? They need to do a calendar!
The big problem that Matt found while collecting photos was that people did not write the names of persons in the photo, so he couldn't use them. What a shame. It is however something most people are lax in and so much history is lost. Please be inspired and name your old photos.
You will enjoy going through this book. When my husband Peter looked at it, he found it brought back a multitude of memories. I even spotted a picture of Peter, in 1978 in has hardhat and tree climbing spurs, dropping the cable lines while a house was moved from downtown!
So if you grew up here or have been here a few years, you are going to love the book. But, I also think, even if you are new, you will enjoy seeing the history of your new town and how it has changed.
Matt is having a book launch on Tuesday, Sept. 23, where you will have the opportunity of getting his book and having him sign it. The launch is at Annandale National Historic Site at 11 a.m. The price is $40 or hardcover for $50. After the book launch copies will be available at Annandale NHS, the Station Arts and Coyle's Country Store. Inquiries can be made at 519-842-5584 or tillsalbum@gmail.com. Thank you Matt for preserving our history and good luck!
We apologize, but this video has failed to load.
The World is a Stage
Back to video