Pritchett wows fans in Tillsonburg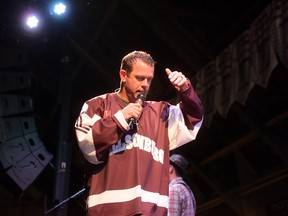 Article content
In its 160 year history it's fair to say some big names have performed at the Tillsonburg Tri-County Fair.
None recently, and none as big as Canadian country music star Aaron Pritchett who played in front of 700 enthusiastic fans Saturday night in the Tillsonburg Kinsmen Memorial Arena. The fair board was swinging for the fences bringing in high-price entertainment (for Tillsonburg), and knocked it out of the park.
"Amazing – it was great," said Tillsonburg's Pat Turner, who was in line for Pritchett's autograph after the concert. "Those people who didn't want to come tonight..." Turner smiled, "well, they missed out."
Before starting his opening song, Let's Get Rowdy, Pritchett looked down in front of the stage, noticed there was room in front of the first row, and invited fans to come right up to the stage. During the concert he was not shy about reaching down to shake hands.
Tillsonburg teenager Tiffany Nevill was happy to oblige.
"It was awesome," said Nevill, also in the 100-plus autograph line. "He's really good. And he shook my hand four times!
"I know a lot of his songs. Uh, all of them!" she added when prompted to name a few. "Hold My Beer. Let's Get Rowdy, the very first song. I'm so glad I got to be here tonight."
"I love his songs," said Turner. "He's got a really good selection.
"Hats off to whoever organized this because it was so well done. It was nice to have somebody like this come in. This was well worth it. I'd come back in a heartbeat. This will go down as a good concert, which hopefully will bring in more."
Turner, who would have liked to buy a Pritchett CDs Saturday night, appreciated Pritchett's mix of old songs, in particular Big Wheel, and new songs, including Boat on the Water.
"That was amazing, great," she nodded.
The group Turner wanted to thank for Saturday night's concert, which opened with Amy Churm at 8 p.m., was the Tillsonburg Tri-County Agricultural Society's board of directors, a hard-working team led by fair president Michelle Babcock. Online ticket sales were slow the first six weeks, but when fair representatives began selling tickets person-to-person, starting at the July 19-20 Ribfest, the pace picked up.
"It was a blast," said fair ambassador Ali Ziegler, who waited more than an hour Saturday night so she could be at the front of the autograph line. "I'm definitely a fan of his. I've seen him on TV and YouTube, but never in concert before. When you see someone live, you never know if they're going to be as good as they are on the radio. I was definitely pleasantly surprised."
"The concert went well – very well," said Babcock. "Fantastic performance, fantastic crowd. He's got a very upbeat live performance.
"Yes, we're happy," she summed up.
We apologize, but this video has failed to load.
Pritchett wows fans in Tillsonburg
Back to video