Cowan's got a bumper tomato crop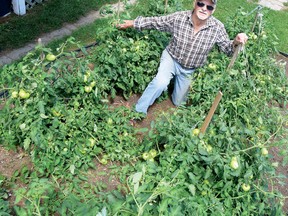 Article content
A gardener for the past 37 years, Jim Cowan is particularly proud of this summer's tomato crop.
"Look at these!" smiled Cowan, 80 years old, standing in his Plank Road garden, north of Langton. "Look at the size of these here. And look at that one! That is a lot of tomatoes, isn't it? That's quite a crop."
Cowan is quick to point out he does not use traditional fertilizer. He uses manure from his pigeon coop where he raises English trumpeters as a hobby.
"I save it all winter, then I spread it in the spring. I put it on thick. I rototill it in the minute I spread it. That's all I use, every year, and you see what it does?"
Last Wednesday, Cowan estimated his still-ripening tomatoes would be "really into it" in seven to 10 days. It's a bumper crop – he figures 45 tomatoes or more per plant on average.
"I heard a lot of people are having trouble with their tomatoes this year. There's blight and aphids getting into them. I've had blight before, about two weeks earlier than this. They just start dying from the bottom up and the leaves all go... and the tomatoes will have a big brown spot right on the bottom. The one year I think I got four tomatoes and the rest I had to throw away."
Cowan did his spring shopping at Garden Gate in Tillsonburg, selecting two varietes of tomatoes, eight plants in total.
"One of them is Better Boy and the other might be Bonny Best. I've had them before. You can get the Beefsteak, but they're so big, eh? Sometimes they'll split when they're half-ripe. But these are big enough."
Producing mid-size tomatoes, Better Boy is known to be both disease resistant and a prolific grower, producing high yields. And it's well adapted to cooler climates – a huge bonus this summer.
His entire garden was planted on the 20th of May, which included carrots, sweet corn, spinach, cucumbers and raspberries.
"Look at the carrots – I give them all away. I also give away quite a bit of corn – I give 90 per of it away. I just love growing a garden, I just grow for the fun of it."
Part of that comes from growing up on a farm, being raised as a "country boy."
"I just like having a garden," said the 80-year-old. "It's one of my hobbies and it gives me something to do. It's been 37 years, so why stop now?"
We apologize, but this video has failed to load.
Cowan's got a bumper tomato crop
Back to video