EMI upsets Eichenberg's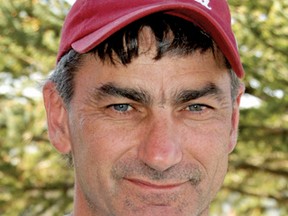 Article content
Finally a great weekend of weather!
Hopefully we get more of the same this coming weekend as the King of the Hill Pylons Slo-Pitch Tournament will be on the go, as well, of course, as the Relay for Life on Friday night.
Get out and support your community!
LADIES A
EMI pulled the upset of the week knocking off last year's champs, Eichenberg's.
Eichenberg was shut out by Great Lakes Physio/Corey's last Monday night.
Orange Crush pulled to the top of the standings after victories over EMI Steelerz and Jays.
Great Lakes/Corey's 4, Eichenberg 0
Great Lakes/Corey's: Janet Culliton 4-4, Jill Whiteside 4-4
Eichenberg: Kathy Vanderven 2-3, Kim Harrop 2-3
Deb Simmonds pitched the shutout behind some great defence. Kim Harrop was a defensive standout for Eichenberg's.
EMI Steelerz 16, Eichenberg 7
EMI: Deanna Littler 4-4, Shannon Collings 2-2
Eichenberg: Kate Hahn 3-4, Kelly Spencer 2-4
EMI took advantage of a nine-player Eichenberg's squad plating six in one inning, and five in two other innings. Deanna Littler led EMI with a pair of doubles.
Orange Crush 10, Jays 4
Orange Crush: Chrissy Barnard 3-4, Rina Langrell 3-4
Jays: Mary Froese 3-4, Melissa Hughes 2-3
Orange Crush stole this one away courtesy of a seven-run bat-around sixth.
Orange Crush 18, EMI Steelerz 5
Orange Crush: Candi Hopper 3-3, Tammie Lisabeth 3-3
EMI: Kim Jeromain 2-2, Laurie Loughgrin 2-2
Stacey Lauwerier, Rina Langrell and Candi Hopper each scored three runs for Orange.
LADIES B
Focus were involved in two close decisions last week. They beat Challengers by one in walkoff fashion and dropped a 5-4 decision to Energy Productions.
Hollister KIA continue to piled up the runs and the wins averaging 15 runs.
Challengers and Ritchie's each recorded lopsided wins over Camo.
Hollister KIA 18, Ritchie's 8
Hollister KIA: Jen Cadman 4-4, Trisha DeLoose 4-4
Ritchie's: Randi Williams 4-4, Lisa Warren 3-4
Hollister KIA plated seven in their first and fifth at-bats.
Energy Productions 5, Focus 4
Energy Productions: Melissa Johnston 2-3, Danielle Swart 2-3
Focus: Pat Sivyer 2-2, Kristen Bogard 2-3
Energy plated all their runs in the first inning and Focus scored their runs in the seventh.
Ritchie's 19, Camo 4
Ritchie's: Lindsay Warboys 5-5, Ali Vankerrebroeck 4-4
Camo: Amber Way 2-2, Bri Clark 2-3
Lindsay Warboys had a double and scored four runs for Ritchie's.
Hollister KIA 12, Energy Productions 7
Hollister KIA: Mandi Howe 3-4, Lyndsay Miller 3-3.
Energy Productions: Tammy Lalone 2-3, Jen Kichler 2-3
Hollister KIA took over the lead in the sixth and added four more insurance runs in the seventh.
Focus 11, Challengers 10
Focus: Nicole Sanderson 4-4, Heidi Hopper 4-5
Challengers: Susie Klassen 4-5, Sara Klassen 5-5
Kristen Bogart had the walkoff RBI for Focus.
Challengers 17, Camo 7
Challengers: Carol Knelsen 2-2, Tina Enns 2-2, Helen Dyck HR
Camo: Amber Granger 2-2, Steph Simmonds 3-4
Helena Dyck homered, singled twice and scored three runs for Challengers.
MEN'S A
Woodland RV and IC Waters each jumped into the win column last week.
Woodland had impressive wins over Robert Q Travel and Haines Roofing. IC handed Maple View Variety its first loss in extra innings.
Maple View finished off their week with wins over Haines and Survivors.
Gators grabbed the other division victory 14-6 over Robert Q Travel.
Woodland RV Park 6, Robert Q Travel 5
Woodland RV: Tim Townsend 2-3, Josh Mabee 3-3
Robert Q: Billy Wilson 2-3, Joe Highley 2-3
Tom Csoff had a two-run triple in Woodland's three-run sixth.
Woodland RV 9, Haines Roofing 6
Woodland: Rick Csoff 3-3, Aaron Phillips 3-4
Haines: Steve Byron 3-4, Trevor Oakes 3-5
Woodland pulled this one out with a three-run eighth.
Maple View Variety 20, Survivors 14
Maple View: Mike Wencel 5-5 HR, Ryan Black 4-5 HR
Survivors: Deidrich Klassen 4-4 HR, Jake Friesen 4-5, Martin Klassen 3 HRs
Maple Lane put this one away with a five-run seventh. Ryan Black drove in six runs for the winners.
Maple View Variety 15, Haines Roofing 13
Maple View: Randy Miller 3-3, Jeff Pace 4-4
Haines Roofing: Shawn Finch 4-4, Craig Smith 2-3
Tim Pressey and Randy Miller each led the winners with a pair of triples.
Gators 14, Robert Q Travel 6
Gators: Dave Hodges 4-4, Trevor Brown 3-3
Robert Q: Mike Supinski 4-4, Clayton Stubbs 3-4
Leadoff batter Darryl Vandendriessche reached and scored three runs for Gators.
IC Waters 13, Maple View Variety 12
IC Waters: Steve Leacock 4-4 2 HRs, Steve Voth 3-4 HR
Maple View: Darren Pace 3-4 HR, John Epp 3-4 HR, Randy Miller HR, Abe Epp HR, Nathan Klassen HR
Steve Voth won it for IC Waters with a three-run homer in the eighth.
MEN'S B
Ontario Laser Spartans piled up the runs in victories over C Division opponents Corey's Restaurant and Cain's Pelicans. Broadway Lanes Bears and DeGroote-Hill also defeated Corey's.
DeGroote-Hill, Bill's Pizza Kekambas and GC Lounsbury all defeated Destroyers.
Domino's Hounds won over Stickmen and John Beere. Kirwin and Oatman handled Ward's Automotive.
Ontario Laser 27, Cain's Pelicans 10
Ontario Laser: Pete Froese 4-4 HR, Johnny Klassen 4-4 2 HRs, Corny Krahn HR
Cain's: Andrew Dawson 3-3, Andrew Kamenar 3-3 HR, Ryan Verbuyst HR, Steve Robb 2 HRs
Pete Froese homered, doubled and drove in six for the Spartans.
Domino's Hounds 31, John Beere 10
Domino's: Chris Brittain 4-4, Mark McKibbon 4-4 2 HRs
John Beere: Jesse Anderson 3-, Shawn Sivyer 3-3, Kevin Stuyt HR
Leadoff batter Mark McKibbin homered in consecutive innings for the Hounds.
Kirwin Oatman 18, Ward's Automotive 1
Kirwin Oatman: Steve Smith 3-3, Shane Hall 3-3
Ward's: Chad Vigar 1-2, Patrick McElhone 1-2
Shaine Hall hit a pair of doubles for Kirwin and Oatman.
GC Lounsbury 15, Destroyers 7
GC Lounsbury: Jarett Anderson 2-2, Justin Miller 3-3
Destroyers: Mark Pressey 3-3, Ross Russell 3-3
GC Lounsbury put the game away after a seven-run fifth.
Bill's Pizza 22, Destroyers 8
Kekambas: Jason Davis 5-5, Kyle Smith 4-5, Kyle Hollister HR
Destroyers: Ross Russell 3-4, Troy Temple 3-4
Kyle Smith and Brandon Rohrer each scored three for Bill's Pizza.
DeGroote-Hill 25, Destroyers 4
DeGroote-Hill: Chris Parker 3-3, Jason Puhr 3-3, Doug Falkins HR, Adam Goodlett 2 HRs, Andrew McQueen 2 HRs
Destroyers: Dave Lockstein 2-2, Ross Russell HR
Adam Goodlett and Andrew McQueen each homered twice for DeGroote-Hill.
DeGroote-Hill 21, Corey's Restaurant 16
DeGroote-Hill: Adam Goodlett 5-5 HR, Bob Long 5-5
Corey's: Scott MacIntyre 4-5, Jeff Dertinger 3-4
Doug Falkins and Adam Goodlett each crossed four times for DeGroote-Hill.
Domino's Hounds 17, Stickmen 6
Domino's: Jim McKillen 4-5, Shane Bouck 3-5, Mike Bouck HR, Nick Barnim 2 HRs
Stickmen: Steve Hawel 2-2, Ryan Copping 2-3
Nick Barnim homered twice and had a two-run triple to lead Domino's.
Broadway Lanes 22, Corey's Restaurant 11
Broadway Lanes Bears: Brad Wencel 4-4, Brent O'Brien 4-4, Jesse Legg HR
Corey's: Mike Stemrcyk 4-4, Chad Hyatt 4-4
Jesse Legg homered and drove in five for the Bears.
Ontario Laser 23, Corey's Restaurant 9
Ontario Laser Spartans: Pete Dyck 4-4, Pete Friesen 4-4, John Klassen HR, Jake Friesen HR, Martin Klassen HR, Pete Krahn HR
Corey's: Chad Hill 2-2 HR, Wes Haegens 3-3
Herman Enns tripled and drove in four for Ontario Laser.
MEN'S C
Stickmen came from behind to upset B Division foe Kirwin and Oatman.
Cain's Pelicans reeled off three wins over B opponents. They mercied Kirwin Oatman, beat Broadway Lanes Bears and edged Next Realty 20-18.
Stickmen 24, Kirwin Oatman 16
Stickmen: Rob Underhill 5-5, Andrew Patenaude 4-5, Dave Phipps HR, Chris White 2 HRs
Kirwin and Oatman: Thom Puhr 4-5 2 HRs, Shaine Hall 4-5, Cheyne Sarafinchin HR (grand slam), Scott Swance HR
Stickmen plated 12 runs late to come from behind to beat Kirwin Oatman. Chris White had a three-run homer in their seventh-inning rally.
Cain's Pelicans 27, Broadway Lanes 12
Cain's: Andrew Kamenar 5-5 HR, Andrew Dawson 4-4, Adam Jensen HR
Broadway Lanes Bears: Jeff Davies 3-4, Brent O'Brien 3-4
Andrew Kamenar homered and drove in five for Cain's.
Cain's Pelicans 23, Kirwin Oatman 7
Cain's Pelicans: Nick Lonsbary 4-4, Tyler Danbrook 4-4, Adam Jensen 2 HRs, Derek Craggs 2 HRs
Kirwin Oatman: Jordan Rooke 2-2, Jordy Thompson 2-3
Derek Craggs had a pair of three-run homers and scored three runs for Cain's.
Cain's Pelicans 20, Next Realty 18
Cain's: Andrew Dawson 5-5 2 HRs, Steve Robb 5-5 2 HRs, Adam Jensen 2 HRs, Nick Wilson HR
Next Realty: Steve Derks 4-4, Dylan Graydon 3-3, Jason Nesbitt HR, Blair Myers HR
Cain's hit the maximum seven homers in the win.
We apologize, but this video has failed to load.
EMI upsets Eichenberg's
Back to video