Slow down and stop, lives are at stake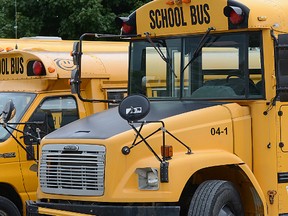 Article content
I'm a school bus driver and have been for 15 years, and I am concerned at the number of people running through my lights. This puts the students at risk for injury or worse.
The OPP and Student Transportation have been doing their best to help. However, this happens almost once a week or more and is getting progressively worse.
I have a stop at North Broadway where there are two lanes going north and south with a left turning lane in between, and they run my lights there at least once a week or more.
People obviously don't go through on purpose, but they are not paying attention, or on their cell phones, or preoccupied by the demands of job, or other issues. Even a mother with a car full of children ran through just the other day.
Please slow down and stop when the bus lights are activated, children's lives are at stake.
John Johnston,
Tillsonburg
We apologize, but this video has failed to load.
Slow down and stop, lives are at stake
Back to video