Fun for the Family in Mount Elgin -- and free!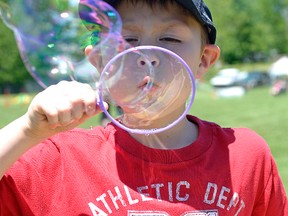 Article content
The 3rd annual Mount Elgin Family Fun Day lived up to its name for more than 200 people – mostly children – who enjoyed four hours of fun Saturday at the Mount Elgin Community Centre and Ball Park.
The fun day was organized by the Mount Elgin Community Centre hall board and sponsored by local businesses and service clubs.
"I went around our area to all the different businesses and they all gave us monetary donations," said Carol Anderson from the hall board. "We always get good support from the businesses, and that helped pay expenses for the day so everything was free to the families."
That included free ice cream cones, free water, free chips, free freezies and more, including free inflatable bouncers and free dog agility show.
"We filled them up with all kinds of stuff," Anderson laughed.
Some of the fun stations included bubble centres, a tattoo parlour, photo booth, mini golf and more. Also on hand for the community-themed fun day were Oxford EMS, Oxford OPP, and South-West Oxford Township firefighters.
"All of our service clubs from Mount Elgin and area were included in the day. We had the Mount Elgin Women's Institute, our Oxford 4-H Club, the Mount Elgin United Church was involved, and the Dereham District Lions did the hot dogs. And the Rec Committee, they looked after the ball park."
Anderson didn't have an official attendance figure, but she estimated it was more than 200.
"There must have been at least 200, I think. We were trying to decide whether it was as good as last year's – and it probably was – we had a very good crowd. We were hoping for 300, but I don't know if we made it to 300.
"We've had some good reports," Anderson summed up. "Everyone seemed to think it was a beneficial day and it got some of our community people out... it was good for community spirit."
We apologize, but this video has failed to load.
Fun for the Family in Mount Elgin -- and free!
Back to video