Talking 'birds and the bees' at YU Ranch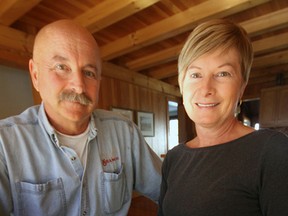 Article content
It had to be one of the most informative and least awkward 'birds and the bees' chats on record, with even a little 'flowers and the trees' thrown in for good measure.
Bryan and Cathy Gilvesy's central ethic of sustainable agriculture has led down several paths, including a Pollination Guelph symposium Bryan attended in 2008. Inspired by a presentation on the importance of providing pollinator habitat on agricultural and other areas, and they installed a 2,000-foot pollinator hedgerow and bee-nesting habitat that year.
Pollinators' importance to food production and biological health can't be overemphasized, says Cathy.
"Seven out of 10 bites on your plate are the result of pollination."
When most people hear 'pollinators', they think honeybees, says Bryan, but their focus is providing habitat and food sources for native pollinators including wasps, bees, hummingbirds and butterflies.
"People tend to forget about native pollinators, the ones who were here when settlers first came, and how effective they were," said Bryan.
Both are under stress, although the plight of honeybees has received more attention than their native counterparts.
"They have always been here and they are suffering more than honeybees from loss of habitat," said Bryan.
Native pollinators feed on nectar and pollen, with pollination a positive by-product of the process.
Honeybee hives can be considered a form of mobile condos. By contrast, most native pollinators are singular in nature says Bryan, many burrowing in the earth for shelter, and as a result, require undisturbed ground for living space.
"You can imagine on a landscape we till from fencerow to fencerow, how difficult it is for them to find a place to nest."
Food supplies can also be in short shrift in the contemporary agricultural landscape, said Bryan citing the negative impact an attempt to eradicate milkweed has had on Monarch butterfly populations as an example.
"So you've got to give them a place to live and a place to eat."
Benefits include better pollination services for free, says Bryan, better fruit set and better yield.
"It's sort of a common sense thing we've forgotten about."
Hedgerows are already a facet of Norfolk County agriculture says Bryan, whose response was to plant a pollinator-friendly version (with the assistance of Dave Reid of ALUS) featuring flowering plants and shrubs, including Carolinian staples tulip, red oak, cherry, service berry, red osier dogwood and witch hazel, a combination that houses traditional pollinators and enhances area crops.
"This is reinventing what a traditional hedgerow can look like," said Bryan.
The Longhorn beef cattle raised on their YU Ranch operation don't directly require pollinators, but in part, Bryan believes it was simply good agricultural practice._"Farmers and pollinators are a natural fit," he said. "It's only natural we should be the people who care most about them."
The North American Pollinator Protection Campaign agreed, and in conjunction with the Canadian Federation of Agriculture, co-presented Bryan and Cathy the 2013 Pollinator Farmer-Rancher Award in the Canadian Farmer-Rancher division at a ceremony involving around 150 people last fall inside a diplomatic building usually housing the Association of American States in Washington, D.C.
"It was a really nice soiree," said Bryan, as well as a form of validation.
"This is something we've picked away at since our days starting with ALUS – we think we've done a couple of things that are interesting."
And while YU Ranch's latest award is national in scope, Bryan reiterated the core of their inspiration is at a very local level.
"We don't ever win this award unless we become ALUS participants," he concluded. "We would not have been exposed to that kind of thinking."
We apologize, but this video has failed to load.
Talking 'birds and the bees' at YU Ranch
Back to video