Old 'duster' picks up a little shine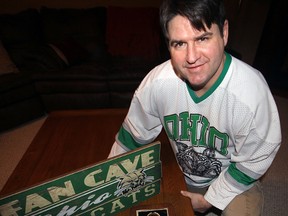 Article content
The plaque and the recognition were nice.
But the best part of Derek Partlo's induction into the Ohio Bobcats Sports Hall of Fame may just be convincing twin sons Logan and Landon there might be an element of truth to the 'older I get, the better I was,' scenario.
"Got no street cred with them now," laughed Partlo Sunday afternoon, while taking in back-to-back OMHA BB games inside the Kinsmen/Memorial Arena. "They see me play, I think their word for it is 'old duster.'"
But after taking in the induction ceremony, January 17 in Athens, Ohio, two of his tougher critics may in fact be on board.
"They figure maybe the old man wasn't too bad."
Partlo played his minor hockey in Tillsonburg before joining the Junior C ranks. Woodstock Navy Vets coach Dave Bogart, himself an Ohio alumnus, connected Partlo and teammate Dan Morris with the Bobcats coaching staff, who extended the pair an invitation and Partlo a partial scholarship following a scouting trip to Ontario. The Partlo family visited the campus in Athens (roughly an eight-hour drive, an hour-and-a-half southeast of Columbus near the Virginia border) that summer, collectively liking what they saw.
Partlo had been issued an invitation to the Peterborough Petes training camp as an 18-year-old, but on balance, the combination of prioritizing playing high-level competitive hockey and getting his education is a decision he's never regretted.
"I hear a lot of talk about AAA and the OHL," Partlo said. "I don't hear too many parents talk about 'I hope my son gets an education through hockey.'"
It was tough to get into teacher's college in Ontario at the time, Partlo added.
"This program had it all concurrent in the four years."
The Bobcats played in the American Collegiate Hockey Association's Central States Hockey League against centres including Illinois, Eastern Michigan, Kent State, Penn State and Iowa State. The ACHA national championship is decided through a tournament.
The Bobcats played on an Olympic-sized home ice pad.
"That was an adjustment for a guy who played physical back home," admitted Partlo, who wore number 26 and played on his off (right) wing.
Partlo retained the 'physical' aspect to his game and holds the school record for career penalty minutes. But he would also prove a key offensive contributor through four seasons with the Bobcats from 1993-97, netting over 150 points, leading the team in scoring two seasons, including 20 goals and 28 assists in 24 games during his senior year.
"I was taught if you play the game, you play it hard," said Partlo, describing himself as more of a set-up man, than having an 'A-plus' shot.
"Hockey sense was a key part of my game, moving the puck and playing hard."
Partlo elevated his game during a four-year run of ACHA national championship tournament success, beginning with bronze medals in 1993 at Ames, Iowa. Partlo was named tournament MVP during the first of three consecutive national titles in Tucson, Arizona; led his team in scoring as the Bobcats hosted the final the following year; and capped his career with assists on both goals in a 2-1 championship victory in Ann Arbour, Michigan.
Sports hall of fame induction activities included attendance at a couple of Bobcats games, whose roster says Partlo, mirrors the growth in American collegiate hockey: bigger and better.
"I don't think I'd make the team now," he laughed.
Family and friends attended the induction ceremony, which took place between the first and second periods of one of the games.
"It was nice to be recognized too for playing hard and the hard work," said Partlo, whose only regret was his mom Deb and dad Max were not alive to share in the experience of putting the family name on the wall.
"I'm sure they'd be proud of that."
Partlo was a benefit to the Bobcats program, but his experience there was definitely beneficial to his life, as well.
"The old saying, 'go there a boy, come back a man,' it was a big part of my growth," said Partlo, who enjoyed the hockey, made lasting friendships and translated teacher's college into a job and the ability to raise a family in his home community, where he wanted to stay. "That's really more than I could have hoped for when I first left."
And beyond all that, the induction may even have boosted that 'street cred' in the next generation of players.
"It was neat to show the boys and (daughter) McKenna dad wasn't too bad at one time of his life."
We apologize, but this video has failed to load.
Old 'duster' picks up a little shine
Back to video