'Dining table' discussion on THI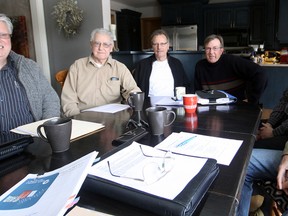 Article content
Cam McKnight is quite content on a sulky with equine, rather than municipal reins in his hands.
"I'm happy with the horses," quipped the former mayor Friday morning inside his Tillsonburg residence. "They bite every now and again, but they don't talk back."
But a staff report recommending the disposition of Tillsonburg Hydro Inc., that if passed as worded during its introduction at the last meeting of open council, carried the potential to take the process to the finish line with little public awareness it was off and running, returned McKnight's attention to municipal affairs, if not to municipal politics.
"This isn't driven by politics," said McKnight, indicating participants sharing his dining area were there because previous direct or indirect involvement qualified them as 'vehicles' to help bring their understanding of THI to the community 'table'.
If passed as written, said former Town of Tillsonburg CAO Dave Morris, the recommendation would have authorized courses of action including closed negotiations in an open RFP (Request For Proposal) for a variety of options including the sale or merger of THI.
"That has been deferred," McKnight pointed out. "It hasn't been defeated – it's still hanging out there."
Council indicated that was not the intent of the recommendation, said McKnight, but concern as much with the process as the procedure is driving his action.
"We wouldn't even be here, but from my perspective anyways, I lost some faith in the process," he said, noting it did not encourage a 'warm and fuzzy feeling,' "because no one was aware the issue was coming forward."
McKnight was unofficially chairing an unofficial presentation, informal in the sense it was around a table in his home, but lent credence by the fact it featured three former mayors (he, Irv Horton and Stephen Molnar), a former CAO, a former THI superintendent and VP/GM of power lines for Erie Thames for five years (John Puhr), and a representative of a prominent local business family (Peter Beechey).
There is a point in the potential sale of any asset where negotiations require discretion, and executive privilege said former mayor Stephen Molnar. But openness and transparency is appropriate in the infancy of the discussion, "as we move down the path," particularly regarding a community-owned entity of considerable value.
Molnar used the example of a minor variance on a fence requiring public notice.
"THI deserves a little more."
McKnight said council has both the right and responsibility to deliberate and make major decisions on, for example, a wide range of services and assets.
"Those are all things council should look at, but they need to let the public know and give the public opportunity for input on those issues."
The group's presence also indicated, said Morris, concern council didn't have access to all pertinent information.
"And we're all shareholders," added Horton.
Apart from a combined public request for that form of information and input, participants also wished to bring forward what in their opinion, is their version of pertinent information on both THI's financial and community impact.
THI was born out of a provincially-mandated turnover of local PUCs, said Morris, CAO for a council of the day which had options including sale, amalgamation or retention.
"The decision at that time was to retain."
Effectively, THI was formed without employees, contracting the Town of Tillsonburg for services through a master service agreement, said Morris.
"That's where we find ourselves now."
Against a backdrop of provincial encouragement that bigger is better, a commissioned 2009 report on THI presented by KPMG returned recommendations including selling, amalgamating and diversifying.
"Status quo wasn't really considered," said Morris, adding 'diversification' options to other business opportunities included a look at power generation via a dam in town, an option a cost-benefit analysis did not support.
"Quite frankly, it wasn't going to make any money."
Morris's personal feeling is THI should focus on hydro distribution, as "that's where it makes its money."
How much money THI does make is open to some interpretation. According to the master service agreement, a mandatory dividend of $150,000 per annum is paid to the town by THI says Morris, although according to public record (from where he says, the financial figures are sourced), last year's total was over $200,000. The master service agreement also resulted in $216,000 of income for the town says Morris, for a list of items including building rental. Beyond that, THI pays a portion of the town's senior staff members' salaries, a cost recovery Morris says conservatively is half a million dollars.
The latter total may well be adjusted if THI was sold, via resultant staffing cuts, but at the moment, Morris says THI's annual benefit to the town is in the ballpark of $900,000.
"That's what reduces the tax rate in Tillsonburg – every year."
There is also roughly $1 million of salary and potentially local economic impact related to THI, said McKnight, including senior staff, linemen and customer service reps.
"That's in our community, that's jobs in our community."
Morris pointed to the 'Consensus Accord' as recommended reading, a 39-page challenge to the provincial government's Distribution Sector Review Panel Report's contention amalgamation of the province's 75 local distribution companies (LDCs) is the only viable solution to reduce costs and stabilize rates. The Consensus Accord was created with participation of 38 small to medium-sized LDCs (including THI) serving approximately 600,000 customers. Featuring alternative suggestions, its conclusions include LDCs provide higher levels of service and responsiveness, greater community access to the decision process, and provide local jobs and economic activity.
"And deliver more reliability and customer service at a better price," said Morris.
Horton spoke to the rumoured $15 million financial benefit of a potential sale, roughly the same as the town's accumulated long-term debt. One way to bring the debt down, Horton conceded, is to 'sell everything that isn't nailed down.'
"(But) when they sell the golden goose, the golden eggs stop."
Horton says the last time he checked, the town's level of debt was less than 50% of the limit approved by the Ontario government, and therefore at an appropriate level. He says if that entire sum had to be refinanced at the contemporary interest rate of 3%, the annual carrying cost would be considerably less than Morris's figure for THI's current positive financial impact.
Debentures are like a house mortgage said Horton, in the sense they represent significant benefit gained, are paid back over years by those using them, come due over a period of time and can't be paid off without penalty. Morris said the current debenture total will be reduced to $8 million by 2016, through the natural course of events, "but hopefully between now and 2016, we'll be doing something."
Molnar suggested the advantages of a 'made in Tillsonburg' hydro company go well beyond its face value, with local governance and a definitive link a bonus in attracting business and industry to a community.
"There is far more value than just a fair market dollar sign."
Puhr says there is a customer service differential between a local utility and one operated with a bottom line as a higher priority. Centralized equipment depots typically makes more sense from a cost-effectiveness point of view, he said. Most purchase agreements have employee provisions written in, for a term, for example, five years.
"After that, they may be moved, they may be gone, in the best interests of the business that has taken over."
He added THI is also at the top end for small LDC infrastructure, with upgrades including four to 27 KV transmission (cheaper with less loss) and smart meters.
"Why would you sell now?" Puhr inquired rhetorically.
Beechey has seen a series of six successive transfers of what used to be Til Cable, a local, family-owned business. If THI is sold, Beechey expects a similar pattern to unfold.
"I just see loss of staff and loss of local control. All the direction comes from corporate, wherever that is."
Often, said Morris, it's at the end of a 1-800 number and a series of electronic prompts, a process comparing unfavourably to THI's level of customer service.
"When a person phones in, you get a live person, not a machine," said Morris. "And if they say there is a problem in Fox Alley, they know where Fox Alley is."
McKnight is not in favour of sale and sees amalgamation as less risky, but representing a corresponding decline in financial benefit and control (seats around a broader boardroom table, rather than one's own board). Based on THI's infrastructure status, improvements would largely be elsewhere he suggested, and dividends headed to a central, rather than local pot.
"There is no cheque."
Council's intent was undoubtably good, said McKnight, "but the process was not correct. If the process had been correct, we wouldn't be here."
Current Town of Tillsonburg CAO David Calder has been directed to bring forward an outline for a public forum on the issue at the Monday, March 24 meeting of open council.
Powerful arguments may also come forward indicating compelling reasons recommending sale or amalgamation, said McKnight, 'cards' he would welcome being laid on the table. But operating on contemporary public information, no one sharing coffee in the McKnight dining area was convinced, forming their own 'consensus accord' against either sale or amalgamation.
"Quite frankly, it doesn't make any sense," Morris concluded.
We apologize, but this video has failed to load.
'Dining table' discussion on THI
Back to video