Woodingford Lodge Tillsonburg on track for March move-in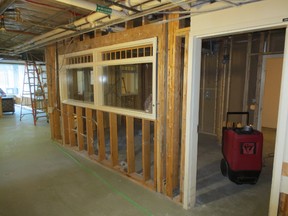 Article content
Staff at Woodingford Lodge Tillsonburg are preparing to bring residents back to the facility after a flood forced occupants to relocate last month.
"Currently, there are a number of things happening. Flooring is being installed, painting, all of those kinds of repairs. They are working on the nurse call system, which is almost completed, as well as obviously all of the other systems," said Corrie Fransen, director of Woodingford Lodge.
"We are waiting for some furniture. That is important to the resident rooms. We call every day to see where it is at and we are moving along."
Fransen said she expects that residents will be able to return to the long-term care home by mid-march.
"The majority of our residents are in Tillsonburg Hospital and, of course, we are extremely grateful for that. There are some residents in Woodstock and some in Ingersoll as well," she said. "It is going well. They are very understanding and tolerant, but of course there is no place like home."
Woodingford Lodge staff are currently with residents at their respective temporary locations until the facility is reopened. "We anticipate moving everyone on the same day and so the people at the hospital, there is a link, an underground or indoor link, from the hospital so that would be beneficial for us," she said. "From Woodstock and Ingersoll, we will organize transportation for those residents to come back."
Before residents return, Fransen said family members or occupants will be asked to come to the facility for a pre-visit.
"(We will) have either their family or the resident, if they are capable to do that themselves, come in and try and get the room all set up to as much like it was prior to them leaving," she said.
"So getting things back in place and getting pictures hung on the walls and ensuring that their furniture is in place ... to make the return as stress-free as possible because the residents have had enough stress as have the staff."
Fransen said she is unsure if there is anything that could have been done to prevent the flood or if there are measures that could be taken to avert future flooding.
"We continue to investigate that with engineers and all of the experts. Certainly if there is something possible that obviously will be done. Due diligence is what we are all about but we don't know that at this time," she said.
Fransen said she is unable to provide an approximate estimate of the cost for repairing damages, but Oxford County chief administrative officer Peter Crockett previously referred to the damage as "extensive."
"We are very grateful to our staff for support and flexibility and obviously our community partners, Tillsonburg Hospital and our partners that have helped us with moving," she said.
"It is something that we couldn't do without that support and everyone working together."
We apologize, but this video has failed to load.
Woodingford Lodge Tillsonburg on track for March move-in
Back to video