'Mid March' return to Woodingford planned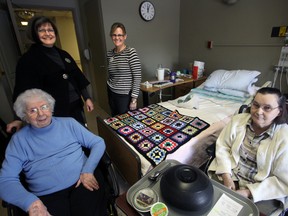 Article content
A positive attitude combined with a sense of humour have stood Doris Morris in good stead for all of her 93 years.
"What can you do?" the Woodingford Lodge Tillsonburg resident asked rhetorically late Tuesday morning inside her temporary Tillsonburg District Memorial Hospital 'home.' "You have to make the best of any situation."
Having lived through events including the Great Depression, Morris, one of 32 Woodingford residents displaced by a flood at the long-term care facility, is taking the situation well within stride.
"It could have been worse," she said. "If it had been a fire, that would have been a disaster.
"That's why we're so lucky."
A nurse happened to be in Morris's room when the lights went out at Woodingford in the wee hours Saturday, January 11. Initially, Morris thought the issue was a comparatively simple electric one.
"She went out the door and I heard the sirens go. At that time of the night, you know it's not a practice."
Subsequent investigation would reveal a water pipe had frozen in the extreme cold of the week previous, releasing a deluge early Saturday morning as it thawed. As gallons of water poured onto the floor of the facility, Woodingford staff scrambled to put planned contingency measures into effect.
Morris overheard a staff member informing her neighbour across the hall she would have to get into her wheelchair.
"I said well, I guess we'll all be in our wheelchairs," Morris recalled.
"The girls were so good," through the crisis Morris praised, recalling one Woodingford staff member approaching, 'ringing wet', to indicate evacuation was on the agenda.
"They said 'you have to get up and go.'"
Residents were moved through water on the floor, to an assembly point by the dining room, said Morris.
"It wasn't long until the water was down by the dining room – they just kept moving us on."
Morris was evacuated at around 5 a.m., one of the first residents to be moved, to the adjoining hospital. All 32 would be moved to emergency temporary locations. Currently, 24 are housed in both previously used and unused locations on TDMH's first and second floors, with four at Woodingford Lodge, Ingersoll; and the final four at Woodingford Lodge, Woodstock.
Morris is one of eight located on TDMH's first floor, another 16 are on the second.
"And we see them from time to time."
Morris misses her regular 'digs', for a list of items including familiarity, cleanliness, timeliness of the meals, the caring nature of the staff and private, rather than shared accommodation, and looks forward to returning as soon as possible. But in the meantime, she does appreciate the efforts being made on residents' behalf at TDMH.
"We're all taken care of here," Morris said. "Everyone is so good, from the top to the bottom."
The date of return has been the subject of conversation and rumour, answered as directly as possible Tuesday by Corrie Fransen, Director Woodingford Lodge Oxford County, who met with both residents and staff to provide a consistent 'mid March' estimate.
"It's nice when everybody hears the same thing," said Fransen, who also welcomed questions, to offer as clear a picture as possible.
Water damage was heaviest in Woodingford's Cedarcrest Rest Home Area, the wing closest to Rolph Street. The Rosewood Rest Home Area was comparatively unscathed and initially, plans were to move residents back there first, and subsequently into the Cedarcrest wing.
Upon further reflection says Fransen, it has been decided to move all 32 residents back en masse, into a fully-operational facility.
"A lot of the common areas were affected by the flood," she explained, "and the offices are closed too."
Beyond those realities, a partial move-back would actually slow the overall process, Fransen added. Currently, workers are busy 16 hours a day, with factors such as construction noise no issue in an unoccupied building.
"If we could wave a magic wand we would," said Fransen. "We're aware of the stress this is putting on the residents and the staff, but we are doing the absolute best we can to get back into a safe environment."
Morris is cognizant of the stress on staff as well as residents, as well as being aware "everything has to meet the standards," before a much-anticipated return can be effected.
"I'm just going to go when they tell me," she summed up philosophically – and with a smile.
We apologize, but this video has failed to load.
'Mid March' return to Woodingford planned
Back to video