No Scholtz hashtag - but another historical book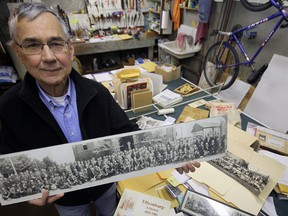 Article content
Matt Scholtz has been drawn, 'kicking and screaming,' into the Facebook age.
But there are limits for Tillsonburg's retired head librarian and enthusiastic historian: updates on the progress of his new book will not be available via Twitter.
"Oh gosh – haven't even thought about that," he responded with a trademark laugh Monday afternoon. "Don't know how to tweet."
Scholtz's first book, Tillsonburg: A History 1825-1982 was printed in 1984 with the assistance of a linotype machine. By 1994 and the publication of Tillsonburg Diary: A Chronological History 1824-1994 Scholtz embraced the computers of the day, and storage and transmission options offered by five-and-a-quarter-inch floppy discs.
And for the third, companion book in the series, Scholtz has found Facebook an important networking and resource tool, particularly the group 'I grew up In Tillsonburg. So I remember…'
"So, I'm learning about that," he smiled.
Scholtz is moving forward with book number three as an enjoyable retirement project of historical value, which also provides a means of bringing photographs in private collections into the public eye, "and preserving them."
The tentative working title is 'A Photographic History of Tillsonburg', a cover which does stand as a good judge of its content. The photographs in his first two books were extremely popular says Scholtz, who is going with that central theme.
"I thought 'OK, I'll do one just of photographs. Just pictures, a visual history basically is what it's going to be."
Scholtz has been collecting material for the past '10 or 15' years and received a significant boost from the estate of photographer/historian Gerald Elder, who helped with A History of Tillsonburg and willed Scholtz an extensive collection of photos, slides and negatives, a collection, ultimately destined for the Annandale National Historic Site Museum.
But Scholtz is also extending an appeal to the community for historical photos and other appropriate documents. He respects both copyright and private ownership, embracing the use of a scanner in order to capture a high-resolution image required for print publishing and then promptly return items.
"I'm always queasy about hanging onto stuff, in order to make sure people get them back."
Scholtz envisions a final project of around 250 pages ready for publication this fall, with an index and divided into a variety of photographic themes (aerials, streetscapes, people) reaching back as far as local photography itself.
"As I started going through stuff, I could see how it could come together."
It will be compiled with contemporary technology, but its base currently stands as an ordered 'old school' mass of photographs, negatives, slides, post cards, maps, programs and graphics on the family ping pong table.
"There will be no ping pong played here for a while," Scholtz laughed.
The mixture includes such eclectic items as the playbill for 'Tillsonburg', a stage presentation penned about the community; a group photo from the 1921 IOOF Ontario Grand Encampment in town donated by David Hughes, who found it in a bookstore in Venice, Florida; and a 1944-45 Tillsonburg High School graduation photo.
In hoping to identify at least some of those in the latter, Scholtz was directed to Gene Walsh, who happened to have the same photo, complete with an envelope on its back containing a list of each and every name in order.
"I thought I had died and gone to heaven," said Scholtz.
Those wishing to support the project with material are invited to contact Scholtz on Facebook, via email at mattscholtz@rogers.com or telephone at 519-842-5584. He has no Twitter hashtag, but can also be approached face-to-face about town regarding a project he is both enthusiastic and passionate about.
"This is good stuff," Scholtz concluded. "It's been a lot of fun just going through it all."
We apologize, but this video has failed to load.
No Scholtz hashtag - but another historical book
Back to video