Zehrs Tillsonburg helps provide autism service dog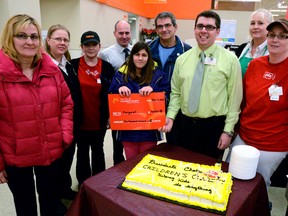 Article content
Zehrs and President's Choice Children's Charity are 'helping kids do anything.'
"It's wonderful to be able to help a child reach their full potential," said Dave Wattie, Zehrs store manager/owner in the Norfolk Mall, presenting a $5,000 grant Friday morning to the Mutch family from Springford to help provide a service dog for 13-year-old Grace Mutch.
"We are so proud to partner with President's Choice Children's Charity and to help children right here in our own community," said Wattie.
Service dogs from Autism Dog Services offer safety, companionship, and independence, assist in developing communication and socialization skills, and often provide a calming influence on children.
Grace and her family, which includes Amber, a golden retriever, will need to be patient – the average wait time for a trained service dog is 18-24 months. Eventually, when the dog retires, they will have the option of keeping it as a family pet.
"The dogs have to be trained from the time they are puppies," said Margaret Mutch. "They try to place the right dog with the right child, so if it doesn't work out they bring a different dog until they get a match."
Zehrs Tillsonburg raised the money through the generous support of customers during a two-week in-store campaign, by cashiers in the store and direct employee contributions.
One hundred per cent of each donation gathered at the till, noted assistant store manager Jamie Dayman, goes directly to the charity, which support Ontario families whose children have physical or development disabilities, as well as nutrition programs aimed at fighting childhood hunger.
"Loblaws takes care of all the administration fees, everything," said Dayman.
In 2012, the President's Choice Children's Charity granted almost $6.5 million to 940 families and 923 nutrition programs, which feed over 100,000 children in Ontario. Since 1989, the Children's Charity has awarded nationally more than $86 million, reaching more than 1.3 million across Canada.
"President's Choice Children's Charity is committed to helping kids across Canada live to their full potential," said Peggy Hornell, executive director, President's Choice Children's Charity, in a media release. "Through our grants for disability and donations to programs that fight childhood hunger, we want to help as many children as possible – ultimately having a positive impact on the next generation of Canadians."
For more information about President's Choice Children's Charity or to make an online donation or apply for a grant, visit www.pc.ca/charity or call 1-800-361-1168.
We apologize, but this video has failed to load.
Zehrs Tillsonburg helps provide autism service dog
Back to video