A Very Acoustic Christmas – with Wheatus -- at My Bar and Grill, Tillsonburg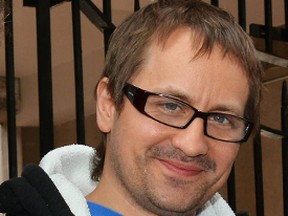 Article content
Brendan B. Brown, frontman for Wheatus, will be playing at My Bar and Grill in Tillsonburg on Sunday, Dec. 29.
"It's kind of the year-end 'big bang' to put the year out for Tillsonburg," said Blacktop Records' Ben Andress, promoting A Very Acoustic Christmas with Wheatus.
Also playing on the 29th are The Smile Case and local band Crossley Hunter.
"He's (Brown) doing an acoustic set," said Andress. "Throughout the year we've been doing a series called Intimate and Interactive where we've had some pretty popular bands come to Tillsonburg and play solo sets in intimate settings. Through the year we've had John (Wozniak) from Marcy Playground, Bill (Priddle) from Treble Charger, Brian (Byrne) from I Mother Earth... and we try to pair them up with the best local bands.
"December 29th is the year-end for this – we tried to figure out a way to top off the year."
The big hit single for Wheatus was Teenage Dirtbag, released in 2000. Teenage Dirtbag reached No. 2 in the UK and No. 7 on the American Billboard. Certified gold in the UK, they sold millions of copies worldwide. Teenage Dirtbag has been featured in a movie (Loser, 2000) and documentary (Bully, 2011). And in recent years, thanks to iTunes and boyband One Direction, who played a cover version on tour in 2012-13, the song has enjoyed a resurgence in popularity and gained a whole new generation of Wheatus fans.
I got gym class in half an hour
Oh, how she rocks
In keds and tube socks
But she doesn't know who I am
And she doesn't give a damn about me
Wheatus just released a new album, The Valentine LP, in August 2013.
"I had released an album for them (Pop, Songs and Death: Volume 1 and 2) a couple years previously on Blacktop Records," said Andress. "They still tour – they've toured the UK the last four years in a row. And they just did some of their first American dates in like four years.
"Usually they play full band... but I was able to snag Brendan for a few days. He was into the idea of doing the acoustic thing – he's played acoustic shows before and he was kind of gung ho on the idea."
'Cause I'm just a teenage dirtbag baby
Yeah, I'm just a teenage dirtbag baby
Acoustically, Teenage Dirtbag sounds "definitely awesome," said Andress.
"The first time we met, I went down to Brooklyn and we talked about the potential of my record label, Blacktop Records, releasing their new album on vinyl here in Canada. We hung out during the night, we went to see an artist on my label play at The Mercury Lounge in New York, met some kids visiting the city from the UK... and later we all went up to Brendan's apartment, up on the roof. He pulled out an acoustic guitar and started singing some songs for us. He told us this story about when he was younger, just living on a floor with a mattress, then started playing the chords for Teenage Dirtbag and the song enfolded. It was just a nice, stripped down, honest version. He's still got incredible range in his voice, and his Rush-like guitar playing... it's incredible how much this guy's influenced by Rush. Even just him, solo, is pretty entertaining. I have tons and tons of faith that everyone else will be just as entertained."
She doesn't know what she's missing
She doesn't know what she's missing
A Sunday evening show, doors open at 6 p.m. and live music starts at 6:15 p.m. at My Bar and Grill (230 Lisgar Avenue). Brendan B. Brown is expected to be on stage at 10 p.m. until the end of the show at 11 p.m. Admission is $15 – for more details on A Very Acoustic Christmas visit wheatus.com or blacktoprecords.ca.
"This is an All Ages show," Andress noted. "It's licensed. But it will be a supervised event, youth will be allowed. It's definitely a safe environment for parents to send their kids. Or the kind of event where most of the parents will probably know Wheatus more than their kids. It's kind of neat doing an All Ages licensed event here. It gives parents and kids something to do together.
"Or not together," he added with a laugh.
"Teenage Dirtbag definitely carries through generations, it's relatable to different ages. Everyone was at that young age at one point. So it's something everyone will be able to relate to whether you grew up with that song or not."
CROSSLEY HUNTER
Acoustic-based rock band Crossley Hunter has completed its summer/fall studio work in Toronto for a full-length album.
"Everything's finished right now," said Andress, "and it's in the mixing stages. We're looking for March/April release – it really depends because we've had some interest from other parties to help us release the album. That could potentially change the course of it. As of now, we want to get it out in March, but that could totally change – and hopefully it does."
Andress said the Dec. 29th show at My Bar and Grill will be a good chance for Crossley Hunter to preview their new songs.
THE SMILE CASE
Smile Case is in the process of recording a home studio demo.
"Just kind of doing the DIY route," said Andress.
More than just a 'demo,' Brendan B. Brown of Wheatus will be contributing vocals.
"I originally met Brendan in 2010. He saw us play and really liked one of our songs, so we decided to re-record that. While Brendan's down on the Sunday afternoon we're going to record vocals on the song. It's kind of exciting."
September 30, 2011
CATCHY SONGS
The 1977 song We Are the Champions by the legendary band Queen was declared most catchy tune of all time according to a study conducted by researchers at a British university.
Dr. Daniel Müllensiefen, Musicologist at Goldsmiths University of London, published the results of his research in 2011. Supported by his team, he tried to determine the components of a musical piece that made it memorable and catchy with the use of several thousand karaoke volunteers.
"The popularity of a song is based on mathematics, science and technology," he said in his report, according to the British Daily Mail.
His all-time Top 10 most catchy songs:
1 - We are the Champions, Queen (1977)
2 - Y.M.C.A., The Village People (1978)
3 - Fat Lip, Sum 41 (2001)
4 - The Final Countdown, Europe ( 1986)
5 - Monster, The Automatic ( 2006)
6 - Ruby, The Kaiser Chiefs ( 2007)
7 - I'm Always Here, Jimi Jamison (1996)
8 - Brown Eyed Girl, Van Morrison ( 1967)
9 - Teenage Dirtbag, Wheatus (2000)
10 - Livin ' on a Prayer, Bon Jovi (1986)
March 6, 2013
TOMLINSON BLANKS
One Direction star Louis Tomlinson was at a loss for words after forgetting the lyrics to a cover of Wheatus' Teenage Dirtbag during a concert in Wales.
The One Thing hitmakers were belting out a rendition of the 2000 tune at the Motorpoint Arena Cardiff on Saturday (March 2), when Tomlinson suffered a little memory loss.
The red-faced 21-year-old told the crowd, "OK, I just forgot the lyrics. I'm not even going to pretend I know them."
His confession prompted his bandmates to step in and help him out, and Tomlinson was able to carry on with the song without incident, later apologising to fans, stating, "I'm sorry, Cardiff."
However, it appear the embarrassing moment didn't put a damper on the rest of Tomlinson's night - taking to his Twitter.com blog, he wrote, "What a great gig! Loved that !!!!"
- with files from QMI Agency
We apologize, but this video has failed to load.
A Very Acoustic Christmas – with Wheatus -- at My Bar and Grill, Tillsonburg
Back to video