Thirsty Golfer wins Battle of the Hors D'Oeuvres People's Choice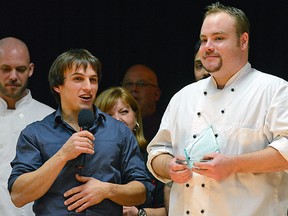 Article content
Two newcomers took top honors in the 5th annual Big Brothers Big Sisters of Ingersoll, Tillsonburg and Area Battle of the Hors D'Oeuvres Friday night.
The Thirsty Golfer, celebrating its 1st anniversary in Tillsonburg on Dec. 7, won the prestigious People's Choice, chosen by the 232 voting participants in the Tillsonburg Community Centre Lions Auditorium.
"The Golf Bag Skewer - it was two items," said Chef Joshua Clausen of The Thirsty Golfer. "It was a Golf Ball and Jalapeno Popper. Cremini mushrooms, with crab, sauteed vegetables and seasonings, coated in panko. The popper was jalapeno, cream cheese and bacon, everything oven-baked. Then we had a house-made buttermilk ranch. I like to use fresh ingredients.
"I love food," said Clausen. "I don't even know how to put it – I just like to have fun with food."
The Jalapeno Popper came off their regular menu, and the Golf Ball will be added to their new menu, which they expect to launch in a couple of weeks.
Chef Clausen, who was serving up hors d'oeuvres with co-owner Carlos Oliveira, noted they had many repeat visitors during the one-hour serving.
"There were a lot of seconds," nodded Oliveira. "And people asking for multiples when they came up."
"Seconds, thirds... it was good," said Clausen.
"We made almost 100 extra," Oliveira noted.
"And we've got hardly anything left," said Clausen, the first chef hired at The Thirsty Golfer and one of the masterminds behind their menu, with input from Oliveira and co-owner Greg Croker and Chef Jonathan Collins, a former Battle of the Hors D'Oeuvres judge.
"It's been busy, but it's the Christmas season and now it's getting really busy," said Oliveira. "A lot of Christmas parties this year, too."
Both Oliveira and Clausen gave a shout out to People's Choice runner-up, JP Mooney.
"I sampled them all and that was my favourite," said Oliveira, nodding to JP's Barbecue and Catering.
"Oh yeah, anything with pulled pork and barbecue sauce is good," Clausen agreed. "The (Indigo Cafe and Eatery) organic chicken was also very good. All the items were fantastic. If I had to pick my personal favourite, I would have voted for this guy (JP Mooney)."
Third place in the People's Choice category went to Indigo Cafe and Eatery.
"I took one of our favourite items off the menu," said Kelly Spencer, owner of Indigo Cafe and Eatery. "The one people are always saying, 'omigosh this is so delicious.' I did a variation of that. The stuff we do is not high-tech seasoning or high-tech cooking, it's just a blend of simple ingredients, whole foods."
Also vying for awards in the Battle of the Hors D'Oeuvres were Chrissy's Catering (Tillsonburg), Elm Hurst Inn and Spa (Ingersoll), Ingersoll Golf and Country Club, and Kelsey's Restaurant Tillsonburg.
Third place in the Critic's Choice competition went to "The Tasty Golfer," as announced by judge Matthew Taylor while handing the award to The Thirsty Golfer. Second went to Chrissy's Catering, and first was Ingersoll Golf and Country Club.
In addition to the Battle of the Hors D'Oeuvres, it was the annual Bid for Kids Sake Charity Auction, the primary source of Friday night's fundraising. About 175 items, including 'paired' items, were available for bids in a silent auction.
"It's been wonderful," said Heather Brekelmans, Resource Development Coordinator for Big Brothers Big Sisters of Ingersoll, Tillsonburg and Area. "It's turned out well.
"We were very, very pleased - a lot of amazing donations," she added, impressed by the variety. "It's a little bit different each year. Some things we've had before, some things we've never had."
A Secret Santa spin wheel provided extra entertainment for those purchasing $20 prizes, donated by various local businesses and organizations.
Jared Pettman returned as the live auctioneer, bringing his entertaining style to the stage to auction nine items, and Bob Breen and Band provided live musical entertainment.
"New this year, we have a survey to fill out at the back," said Brekelmans, noting they always welcome feedback.
We apologize, but this video has failed to load.
Thirsty Golfer wins Battle of the Hors D'Oeuvres People's Choice
Back to video