Tillsonburg area encouraged to support RUN 161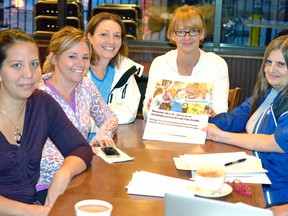 Article content
A passionate runner, Terri Biloski is a community hero and inspiration to local runners.
In 2012, Biloski ran 100 miles (RUN 161 KM) in Elgin County to raise funds and awareness for Huntington's disease (Huntington Society Canada). This year, she's back for another RUN 161, and will come right up to Tillsonburg in the eastern leg of her marathon journey.
"Tillsonburg needs to support her in this journey," said Sandra Beernaert of Tillsonburg Sole Mates, a group of local runners and enthusiasts. "She's an amazing person."
"This is one of those curve balls in life that change you forever, so we all need to participate in any way that we can," said Beernaert, noting Biloski's late grandmother, Bernice, had Huntington's, and her mother also has the genetic disease, which affects muscle coordination, and typically becomes noticeable in mid-adult life.
"I have a 50 per cent chance of developing Huntington's," Biloski wrote on the runforyourlifecanada.com/Terri website.
"She won't be tested, she doesn't want to know if she has H.D.," noted Beernaert.
For a $25 donation, anyone can register to join Biloski on a portion of her journey.
"You can run or walk, you can do any kind of distance at all, from 1 km to 10 km," said Beernaert. "Just start with us as a group. If you need to go slower, go slower. She'll know you did this to support her! I'm hoping we'll have at least 100 people walking or running some type of distance."
If you can't walk or run with Biloski, from 1-10 km, Beernaert is encouraging people to hold signs that support Biloski.
"We'll make sure the pictures get to her later so she always remembers what she's doing is important and how much we appreciate her."
Beernaert recalls Biloski's emotional run last November, and was proud to be part of it in a small way, being part of a small group with supporting signs who 'jumped in' and ran a few kilometres with her.
"I was blessed enough to be at the finish, and watched her run at the very end of that very long 100-mile run, with her eyes closed and holding her daughter's hand. I still choke up thinking about it. Seeing something like this, and better yet, participating, changes you forever in a good way.
"This year, I think we're one of the bigger communities that she runs through and I think we have a responsibility to do it big here in Tillsonburg."
Beernaert, Tillsonburg Sole Mates, and anyone who would like to join them to support Biloski are asked to meet at DDM Plastics on Clearview Drive, Saturday, November 9 for a 4 p.m. start time.
"The 4 p.m. start is only an estimate," said Beernaert. "By the time she reaches Tillsonburg she will already have run more than a marathon."
Volunteers will be driving along the route to pick up anyone ready to return to their vehicles along Tillsonburg's 10-km shared route.
"They'll have their four-way lights on. Safely wave to them and they'll pull over, pick you up and drive you back to DDM and your vehicle."
All participants are encouraged to wear bright clothes and dress for the weather. There will be a support vehicle behind Biloski the entire route.
"We still need volunteers," said Beernaert. "We need people to cheer and make noise, sing, anything to distract her and show support. It'll be great for teens who need volunteer hours."
Runners are asked to stay on the side of the road at all times, for safety.
"This is not a timed event of any sort," she stressed. "And we don't want anyone running ahead of Terri. We're supporting her and staying with her, but if you can't keep that pace, stay behind and you'll have her back."
Register online at www.runforyourlife.com, follow the links and see Terri's interview. You can register as an honorary Tillsonburg Sole Mate.
"Let's show Terri how very proud of her we are and how much we appreciate her courage in training and running this very special journey."
If you can volunteer or have a group that wants to participate in any way, contact Beernaert at bsinc@rogers.com.
"Tillsonburg has heroes too, let's prove it," she summed up.
We apologize, but this video has failed to load.
Tillsonburg area encouraged to support RUN 161
Back to video