Judges announced for Langton's Mini Battle of the Blades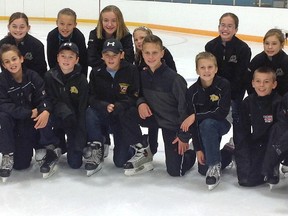 Article content
The panel of judges has been announced for the CBC Mini Battle of the Blades competition being held by the Langton Skating Club at the Langton Arena on Tuesday, Oct. 29, at 7 pm.
Norfolk County Mayor Dennis Travale, Sheri Bradshaw, an official of Western Ontario Section within Skate Canada, and Ryan Vandenbussche, a Norfolk County Sports Hall of Recognition inductee and retired NHL player, will judge the 10 pairs vying to become the local Mini Blades winner.
"I am honored to be asked and pleased to accept the important and much coveted role as judge for the Langton Battle of the Blades," said Travale in a media release.
The winning pair from the Langton Skating Club will be highlighted on the CBC Battle of the Blades website and compete against the six other local winners across Canada.
The public will be asked to vote online to decide who will become the Mini Blades ultimate winner and attend the Battle of the Blades finale in November.
"Move over Battle of the Blades… here comes the minis" said Vandenbussche.
Larry Dawson will serve as the host of the competition and has spent many years volunteering in the community.
"The event will feature 10 pairs consisting of girls from the Langton Skating Club, boys representing our local minor hockey associations from Langton, Delhi, Waterford and Brantford and will be filmed by a CBC production crew," said Dawson. "What a super way for our youth to showcase their talent."
The Oct. 29th event at the Langton Arena and will be open to the general public by donation.
We apologize, but this video has failed to load.
Judges announced for Langton's Mini Battle of the Blades
Back to video