Halloween fun for CCW wrestlers and fans Saturday at the Legion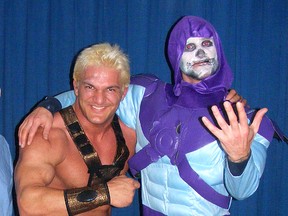 Article content
Sailor Moon, He-Man. Incredible Hulk, Spiderman. Super Mario and Wonder Women.
It's the time of year when Classic Championship Wrestling embraces 'the season' with a classic Halloween Show.
"This is my favourite show of the year," said Tillsonburg's Jay McDonald, Classic Championship Wrestling owner/promoter, who is looking forward to their Saturday, Oct. 26 show beginning at 7 p.m. sharp at the Tillsonburg Legion (16 Durham Street).
"I enjoy it because all the kids come dressed up in costumes. We have a costume contest – as always – so the Top 3 costumes, voted by people in attendance, will win prizes. It's great to see all the kids come out in costumes. I think we had 50 costumes last year and it's just fun to watch. A good way to celebrate Halloween."
It's something different from a typical wrestling show, said McDonald, when everyone's dressed up and having Halloween fun with Halloween lighting, Halloween smoke effects, and Halloween music.
"It's an enjoyable wrestling show and just an enjoyable night overall. All of our shows at the Legion are well attended, but this one always sells out. Get in line early, this one sells out – this one's standing room only."
In the ring, wrestlers take on personas ranging from comic and cartoon heroes and villains to movie monsters.
"It's just a blast," said McDonald, who gets a chance to be extra creative and think 'outside the box' for matches and storylines. "It gets my creative juices going again.
"We did our first one two years ago and I was a little nervous about how it would be received by the fans," he admitted. "But they loved it. This year, I've seen two other companies doing Halloween shows – Victory Commonwealth Wrestling in Toronto, and they did a good job on it, and there's a zombie wrestling show the same day as ours in Toronto.
"There will be no zombies on my show though," he laughed. "Maybe next year, but right now, not the popular gimmicks. I'm going with the formula that's worked – the super heroes, the cartoon characters and the movie monsters. We'll make our own 'latest greatest' fads."
It's been a busy fall season for Classic Championship Wrestling with an 18-fair schedule, scattered across Ontario, and Saturday's Halloween Show in Tillsonburg puts a wrap on 2013.
It also signals Freak Show's official final match, which will be the Main Event Saturday against an opponent and/or opponents to be announced.
"Even Freak Show doesn't know. He's been bugging me, but I am not divulging that information. It's a secret to him as well."
McDonald expects a match "full of meaning" not just to Freak Show, but also the people he's wrestled with, trained with, and his fans. Basically, everyone involved.
"For his last match I want it to be meaningful. This summer, Freak Show been up against all the top guys – like Highlander and Cody Deaner – in the wrestling community. He's been wrestling for me for nine years and the last one is going to have MEANING. It's his sendoff and a thank you for all his hard work."
Freak Show also gets into a familiar costume Saturday to portray Skeletor, who will be wrestling Super Mario in a 'Comedy Battle.'
"His Skeletor stole the show last year," said McDonald. "He nails the voice, he nails mannerisms, the match is just like a comedy showcase. He's the bad guy and you want to boo him, but at the same time you appreciate the work he puts into it. It was awesome.
"He's going to rock out his last match, for sure, but look for him to steal the show with Skeletor again. When it comes to Freak Show and the kids, everybody loves the guy."
Also Saturday, the rockin' singles matches include Incredible Hulk vs Frankenstein.
"This is the battle of the green monsters, both undefeated in Halloween competition. These are two big, green, ugly fellows, who have never lost. So we're going to put it on the table and see who wins."
Spiderman will face off against Friday the 13th movie monster, Jason.
"Jason Vorhees is going to take on the web-slinging good guy, Spiderman. Jason's a hit-em-hard, crush-em, beat-em-up guy, Spiderman's fast-fast-fast with the web shooter (aka silly string). I love it."
Zipper Mask, returning from CCW's first Halloween Show in 2011, will wrestle fan-favourite and McDonald's personal childhood favourite, He-Man.
"Two big guys doing some heavy hitting."
McDonald's mission to bring in a werewolf, however, hit a brick wall.
"I tried on a costume and there is no way you could wrestle as a werewolf. The costume is so hot and the eye-holes come out of the mouth. There's no way you could see. I will find something though, just not this show."
There will be two ladies matches. Seleziya Sparxx will challenge Sailor Moon, both new to Tillsonburg, and Evilyn will go toe-to-toe with Wonder Woman.
"Sailor Moon's, the 'moon princess,' is a popular anime character. We asked the wrestlers what they wanted for female costumes and they all said Sailor Moon. If they want Sailor Moon, we'll have Sailor Moon in the ring."
Seleziya and Leah Von Dutch are two of the top women wrestlers in Ontario, said McDonald.
"Last year Wonder Woman was 'evil', this year Wonder Woman's 'good'. Evilyn, she's the epitome of the Halloween Show. Last year Evilyn had the gimmick of the show, the applause-o-tron. Her remote control, it was great. Brilliant.
"This year Evilyn has a special bag of tricks up her sleeve (figuratively speaking) that, she says, is going to ensure her victory. I'm looking forward to that match, for sure."
Those are the 'announced' matches, said McDonald, but he plans to have a few tricks up his sleeve as well (figuratively speaking, of course).
"I like surprises in my regular shows, so for Halloween, got to have more."
For more information see www.classic-championship-wrestling.com.
HALLOWEEN TRADITION
Halloween is still a popular holiday, said McDonald, even though the trick-or-treating tradition seems to be declining.
"Haunted houses, scream parks, zombie walks, and all these other haunted events seem to be well attended. But you go out trick-or-treating now, and nobody's getting kids coming to their door anymore. I don't get it. All these other events, the popularity's picking up, so Halloween's not done, it's just shifting."
We apologize, but this video has failed to load.
Halloween fun for CCW wrestlers and fans Saturday at the Legion
Back to video