First win for Burns Demeyere AE bantams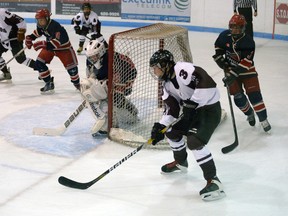 Article content
Coming off a one-win season, the Tillsonburg Burns Demeyere AEs returned to Southern Counties for 2013-14.
Two weeks and four games into a new hockey season, the AEs have their first win, a 2-1 SCMHA victory against Glanbrook Sunday at the Tillsonburg Kinsmen Memorial Arena.
"For half these kids, it's their first regular season win in a couple of years," said Burns Demeyere coach Clayton Collver.
"We played the puck back to our defence a lot more tonight," said Collver, comparing Sunday's effort to three earlier league losses – 5-2 and 3-1 to Ayr, and 3-1 to Tavistock. "We utilized them a lot more, and we had more pressure keeping the puck in deep."
Tornadoes' Duncan McLean scored on a breakaway in the final seven seconds of Sunday's second period, winning a race down the left wing to catch up to a long pass, and wristing a shot in off the goalie to knot the score at 1-1.
Curtis Collver jammed home the game-winner midway through the third after Patrick MacDougall, skating from behind the Glanbrook net, backhanded a pass to the far side of the crease.
The opportunities to get behind Glanbrook's defence – and there were several – were planned, said coach Clayton Collver.
"We're trying to develop it to have one guy go wide. If we break out on the left side, we try to keep the right side nice and wide so we can feed the pass behind the defenceman, anticipate and go forward.
"We're pretty decent offensively, but we have a bit more work defensively. We're want to control the puck in our end more. More glancing at the man, glancing at the puck, knowing where the opponent is at all times in our end."
The Tillsonburg AEs, who are in a division with four AE teams and two rep teams (including Langton), are taking advantage of shared Tuesday morning practices with Tillsonburg's bantam reps.
"The bantam reps skate quicker and move the puck a lot quicker," said Collver. "These players see how the bantam rep players are developing, and it gives them a goal to strive towards to keep up with their pace and puckhandling."
Burns Demeyere AEs 2, Glanbrook 1
Tillsonburg scoring: 1. Duncan McLean; 2. Curtis Collver (Patrick MacDougall).
We apologize, but this video has failed to load.
First win for Burns Demeyere AE bantams
Back to video