Dyco Tool Oldtimer Peewees adjusting to no bodychecking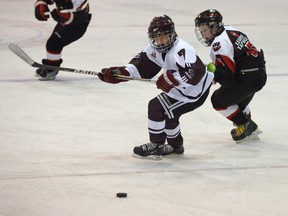 Article content
A new Hockey Canada rule for 2013-14 took body contact out of peewee hockey.
It's not a hit for some 11-12 year old players.
"I don't like it," said Tillsonburg Dyco Tool Oldtimer peewee defenceman Kenny Coyle. "It's kind of half the game I play. I have to change my game style."
Stick-checking and lifting sticks are now a big part of defending, he said.
"Just focusing on the puck. It's pretty difficult to adjust to it."
Not convinced it's creating 'better' hockey, Coyle is quick to note it's 'different' hockey.
"I think it's going to be a different game. It will be easier for some kids and harder for some kids."
"It takes a few games to know you can't bodycheck any more," said Tillsonburg Dyco Tool Oldtimer teammate Braydon Verschueren. "The first time I was out there I hit somebody, got a bodychecking penalty. It takes time to adjust."
"It's a huge adjustment," agreed Tillsonburg Dyco Tool Oldtimer peewee rep coach Jeff Holman.
"Now, when a body check happens it usually causes a lot more animosity. Retaliatory penalties happen. What we're saying is, 'Hey, accidents happen and they're going to hit our guy. Let them take the penalty for it, let them get kicked out, let's stay on the ice and we're going to win with all our guys on the ice.'"
"We're trying to lay off the body contact," said Verschueren, "and all the other teams are kind of pushing us around. We've just got to stay strong and not take any stupid penalties."
It's hard, said Verschueren, not retaliating.
"When they're slashing at your goalie, you can't hit. It's pretty hard for the big guys. You just go in front of them and give them a little shove, hopefully not get a penalty."
About two-thirds of the current Dyco Tool Oldtimer peewees played body contact last season.
"We like it because it really helps us," said Holman. "What we really want to work on this year is speed and systems, and we can't do that when they're worried about bodychecks. The kids get that 'bodycheck' thought in their heads and they forget to learn anything else.
"What we're doing is teaching them how to angle off, to impede their path. Kids are going to learn a lot more about hockey and hockey systems, so they'll have that maturity behind them and be even more ready to learn bodychecking in bantam."
The bodychecking ban came into effect in June – after Tillsonburg's spring tryouts – and the peewee rep coaches had to re-examine some choices.
"We did have to make some changes," Holman nodded.
Skating is key, said the coach after Sunday's 6-1 win Southern Counties win over Paris Sunday evening at the Kinsmen Memorial Arena.
"We're working a little bit on entries into their zone, working on our speed, and working on making sure that we score more goals in the third period. We don't have one individual that's going to take it for us, so we've told them the only way we're going to win is to do it together, collectively. And the only way to do that together is to skate our butts off, everybody positioned, and beat them in the third period.
"It's working and our lines are clicking," said Holman, noting they set the lines over the last three games. "We have everybody where we want them now. So now we'll just build on our tournament this weekend."
"I think we've improved a lot since the beginning of the year," said Coyle.
"We're doing pretty good," nodded Verschueren.
NEW UNIFORMS
For the first time in nearly 20 years, the TMHI Tornadoes do not have tornadoes on their jerseys.
"We needed new jerseys – a better quality jersey – and they wanted to go a little 'old school,'" said Holman, a big fan of TMHI's new burgundy-white jerseys.
Dyco Tool Oldtimer peewees 7, Paris 1
Tillsonburg scoring: 1. Brady Scruton (Logan Savoy, Dylan Holman); 2. Mathew Fabi; 3. Dylan Holman (Logan Savoy, Braydon Verschueren); 4. Logan Partlo (Kenny Coyle, Carter Newson); 5. Josiah VanGurp (Ethyn Brown, Kenny Coyle); 6. Logan Savoy (Carter Newson, Connor McDowell); 7. Riley Balazs (Braydon Verschueren)
We apologize, but this video has failed to load.
Dyco Tool Oldtimer Peewees adjusting to no bodychecking
Back to video