A 'real' Halloween experience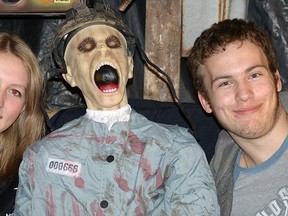 Article content
There's an art to creating a genuine Halloween experience.
Monica and Bob McCarey have been perfecting that art in the Tillsonburg area for the past 15-plus years, creating a spectacular week-long Halloween Tour at their No. 6 Third Concession Road property, nestled between Simcoe Street and Mall Road.
"I came to see it seven years in a row," said Adam Michiels, a Grade 11 Glendale HS student volunteer, who was setting up lights in the McCarey garage Monday night.
"First time," said Glendale volunteer Melissa Hipperson.
"We get to initiate her," Monica laughed. "We have costumes for all the live actors and we find a spot for them back there. Some of them wander around like zombies, some hide. I'm usually setting up the tours and Bob's usually hiding in the backyard somewhere... or running around fixing lighting. We have a lot of fun... can you tell?"
The McCarey 'Haunted House' Tours are expected to begin Saturday, Oct. 26.
"There's a chance we can open Friday (Oct. 25), and we'll be open every night, 7-9 p.m., from this weekend until Halloween, and 6-9 on Halloween Night. The cost is a donation to the food bank. Our goal every year is to reach 1,000 pounds of food."
More than 15,000 pounds of food have been collected over the years, including 980 pounds last year.
"A 20 pound bag of potatoes would have put us over last year," Monica smiled, noting there have been more than 500 visitors some years.
"We also have groups who will have Halloween parties here. We have a trophy for any group that brings the most pounds of food per kid."
Cash donations are also accepted, which help offset the cost of batteries.
For those who want to bring younger children, that option is available Saturday and Sunday afternoons for daylight tours, without live actors. Call the McCareys (519-842-3384) to set up an early tour.
"If any students need volunteer hours, we still have a need for more live actors. Give us a call."
SELF-GUIDED TOURS
In the black-light garage they have a coffin, mad scientist display, and electric chair.
"Each year we try to add something new, one big prop to add to the collection," said Monica, nodding toward an 'occupied' electric chair. "This year we bought an animated guy who looks like he's in an electric chair."
Stepping into the backyard, sectioned off by walls, Monica begins a mini tour.
"This is our chop-shop where our butcher usually leaves something on the barbecue... like hands and feet. This is the entrance to our torture chambers – we're still working on that – and in here's the bottomless pit. There... well, I don't quite know yet. Over there, that guy is the stretcher and I think the stocks go there as well."
The furthest portion of their yard features the 'dead end' graveyard, complete with tombstones.
"People usually take a tour of that."
More displays follow after the graveyard, bringing the tour to its conclusion. Unless people want to try it again.
"Yes, sometimes people do want to go through it two or three times," Monica nodded. "Sometimes they're going through the first time so fast, because they're scared, they don't see everything. It's easier a second time. Unless they want to be scared again, and then we ask the live actors to move around, mix it up.
"My husband Bob, he's the one who started the whole thing. It started out we just did half of the garage, and it was just for family and friends. Then it kind of moved out a little bit further, we added mood lighting, and it was the whole garage. Then it got further, then it became the whole yard. Then the side of the yard, then the graveyard, then everything else.
"As long as we can get students to come and help us, we'll keep doing it. If it becomes just Bob and I, we can't do it. Setting up's not so bad, but it's having the live actors which has really 'made it' the last couple of years. Makes it more real."
We apologize, but this video has failed to load.
A 'real' Halloween experience
Back to video