Watch for deer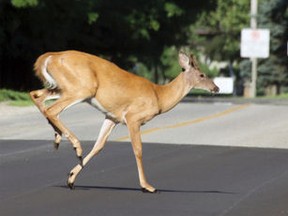 Article content
Elgin County Ontario Provincial Police (OPP) and the County of Elgin are urging drivers to increase their deer alert awareness, especially this time of the year.
"Most vehicle collisions with deer occur during the months from October to December due to the fall mating and migration seasons," said Elgin County OPP Detachment Commander Brad Fishleigh in a media release. "Wild animal collisions tend to occur early morning or just after sunset because of increased traffic, reduced visibility and deer movement patterns. Drivers need to pay extra attention."
OPP spokesperson Troy Carlson said there are steps drivers can take to reduce the chance of a collision.
"Deer-related collisions can cause injuries ranging from bumps and bruises to serious injuries or even death. Being more aware of the dangers and following some basic safety guidelines can help avoid collisions," Carlson said in the media release.
Ways drivers can reduce their risk:
-- A yellow deer crossing sign indicates a high risk area, slow down and drive with caution. If you see wildlife beside the road, slow down, honk the horn and pass carefully as their movement is unpredictable.
-- Use high beams at night and watch for glowing eyes of animals.
-- Never swerve suddenly as you could lose control of your vehicle.
-- If an animal is crossing the road ahead, brake firmly – never assume it will move out of the way.
-- Stop as safely as possible if an animal is crossing the road, remember that other animals often follow.
-- Drive defensively at all times.
"Approximately one-third of all of the collisions the Elgin OPP investigated last year involved a vehicle striking a deer," said Carlson. "Out of the 780 collisions Elgin OPP investigated in 2012, 311 of them involved collisions with deer. So far in 2013 Elgin County OPP has investigated 221 collisions involving deer. We certainly would like to see a reduction in those numbers.
"The costs associated to those collisions are astronomical. If you take into consideration the police resources required to investigate and process these collisions, insurance claims, costs to public the health care system and obviously the emotional impact on drivers and families is staggering." said Carlson.
Stay alert and drive with care.
We apologize, but this video has failed to load.
Watch for deer
Back to video