Valley Heights cross-country runners 'keep it simple'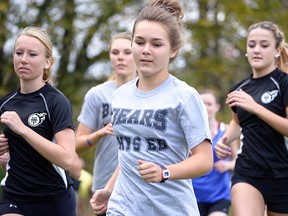 Article content
When it comes to strategy, Valley Heights cross-country runner Megan Wilcox likes to keep it simple.
"Just to run," said Wilcox, who won Wednesday's NSSAA senior girls 5-km cross-country race hosted by Valley Heights Secondary School. "I was trying hard, but I didn't think I was going to get a personal best. Just trying to keep up to the lead people, and if I could, pass them. That was kind of the only strategy.
"That and not kill myself on the first lap," she added with a laugh.
Wednesday's cross-country course, a one-kilometre circuit around the Valley Heights campus with a brief run into the woods behind the school, did not include the school's famous 'monster' hill. Nor did it give the Bears any serious advantage.
"Not really because we didn't train on it," said Wilcox, who won the senior girls race with a time of 24:19, ahead of second-place VHSS Bears teammate Stephanie Fros (25:05). "I think we ran it twice. Normally we go to the trails."
Wilcox plans to run at CWOSSA in Guelph on Thursday, Oct. 24. Last year she finished in the high 20s at CWOSSA and hopes to repeat that performance.
"My times are a lot better since Grade 9, but I've trained a lot more," she said, noting it will be difficult to crack Top 20 based on last year's times. "I guess they've been training for years and years... or they're just naturally that good."
Valley Heights senior girls teammate Alyssa Neudorf, a third-year cross-country runner, ran a solid fifth (28:45), but admitted an early strategical error.
"I guess I pushed it too hard at the beginning," said Neudorf, noting she had also planned to 'not kill herself' in the first lap.
"Forgot that part," she smiled. "But I had 'kick' at the end because I saw a girl (Simcoe's Erin Scott) behind me."
"It was a little tiring because I haven't run in a while," said second-place Stephanie Fros, "but it was good. It was a good day for it because it wasn't too hot."
Fros' gameplan was "to run my race and go back to class." And finish second. That's what she did, crossing the finish line 1:51 ahead of third-place Rheanon VanEs of Holy Trinity.
"I knew I wasn't going to beat Megan, but I thought second was good... definitely good. Everyone gets their pace as they go along and mine is slower than hers. She definitely does better at longer distances."
Valley Heights' Jarred Wilcox slotted into third place in junior boys with a time of 26:30.
"It was slippery," said Wilcox, who inadvertently fell while walking the one-kilometre circuit before his race. "Especially that one hill."
Wilcox stayed on his feet during the 6-km race and did not get lapped by Simcoe's Noah Defreyne who passed most of the 10-man junior boys field with a blazing-fast 22:12.
"I was going for third, I knew those two other guys (Defreyne and Dalton Seeds of Holy Trinity) were pretty good. They both went to OFSAA last year."
Austin Scheers of Valley Heights sprinted hard to the finish line in junior boys, good for sixth (30:52).
"It's always looks nice having a sprint at the end... and it's fun," said Scheers, adding with a grin, "And I wanted to lap a third person – I had to make sure. I finished it and I lapped three people."
Like Wilcox, Scheers survived a slippery course after a light ran early Wednesday afternoon.
"It was like an ice rink downhill," said Scheers.
"I almost slipped a couple times, but no falls," said Valley Heights' Koric Duits, fifth in the 7-km senior boys division (32:53) in the final race of the day.
Duits, a first-year cross-country runner, had hoped to finish Top 10 – and met expectations.
"My fitness teacher said I should go out because I was pretty good at running, but I've only ran 7 km once. We usually run 6 km on the road and there's not as many hills. And it's not really competitive when you're running against your own school. As soon as other people go in..."
Duits' strategy started with a straight-forward 'catch the runner in front of him.'
"But then I figured I'd end up dying out. So as soon as I got up to a 'good point' I slowed down."
Bears' Justin Brandon completed the seven-lap senior boys race ninth (41:56). Crossing the finish line was his primary goal.
"I'm a sprinter," said Brandon, who wanted to run cross-country to improve his hockey cardio. "I'm playing Junior C for the Port Dover Sailors now."
While most of his Valley Heights teammates had longer training runs, Brandon's were limited to 2-3 km.
"Not this long of a distance. Most of the times when we had (cross-country) practice I had hockey at that time, so I couldn't make it. This was my first time running 7 km."
For the Langton Minor Hockey grad, it was mission accomplished.
"Before I started doing this, I probably wouldn't have finished 7 km. Right now my cardio's all right for hockey. It's improved from the beginning of the season."
Overall Boys
1st Waterford – 16 pts
2nd Holy Trinity – 14 pts
3rd Simcoe – 11 pts
4th Valley Heights – 4 pts
5th Delhi
Overall Girls
1st Holy Trinity – 18 pts
2nd Valley Heights – 14 pts
3rd Delhi, Waterford, Simcoe
We apologize, but this video has failed to load.
Valley Heights cross-country runners 'keep it simple'
Back to video