Our Lady of Fatima School's 43rd annual Turkey Bingo - Nov. 2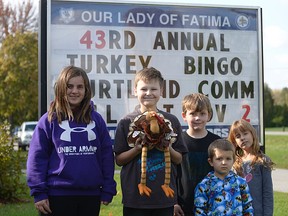 Article content
Our Lady of Fatima School is hosting its 43rd Annual Turkey Bingo on Saturday, Nov. 2.
The bingo will take place at 276 Main Street in Courtland at the Courtland Community Centre. Doors open at 6 p.m. and the Turkey Bingo will start at 7 p.m.
The Turkey Bingo will be an exciting night of cash prizes, door prizes, a bingo bazaar, food, free coffee and nine turkeys. A total of 12 games will be played. All bingos have a cash prize and a turkey up for grabs. There will also be a share the wealth bingo and a winner takes all bingo. Back for the second year, there will be two bingos that will include a substantial mystery prize!
Organizers of the Turkey Bingo are looking for interested businesses to advertise in their bingo program or by sponsoring a bingo game. Contributions are welcome for cash prizes, bingo bazaar and door prizes. All advertisements must be received as soon as possible. Tax receipts will be issued for any donations valued at $25 or more.
The event is the largest fundraising event for Our Lady of Fatima School. One hundred per cent of the proceeds go directly towards benefitting the students at Our Lady of Fatima. In the past it has provided athletic supplies, technology equipment, books, field trips, outdoor upgrades and a music program.
This year, money raised at the Turkey Bingo will go towards purchasing, updating and maintaining the playground area, giving the students the best possible opportunity to learn, play and grow.
Don't be left out in the cold, mark your calendars and support Our Lady of Fatima – a small school with a big heart. For more information, contact the school at (519) 688-0049.
We apologize, but this video has failed to load.
Our Lady of Fatima School's 43rd annual Turkey Bingo - Nov. 2
Back to video