Best effort nearly produces win for Gemini junior girls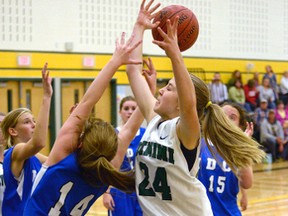 Article content
Tillsonburg Glendale HS Gemini junior girls matched an offensive season-high Thursday afternoon, and seemed to be only a few minutes away from their first TVRA East basketball win of the season.
Tied 6-6 after the first quarter, the Gemini junior girls took a narrow 14-12 lead over Ingersoll into the third, and extended it to 23-18 going into the fourth.
"We got open a lot," said Gemini point guard Cheyenne Nevado, who shares the position with Ashlyn Kernaghan and Cassidy Adcock. "Our posts did really well getting open – and close to the net – and they got the easy, nice shots. And I think IDCI was playing a little sloppy, maybe, with their passes and that really helped us."
The Blue Bombers, also winless going into Thursday's junior girls game, owned the final quarter outscoring Glendale 13-2 on the strength of two baskets and two free throws each from K. Budd and H. Bennett to win 31-25.
"We get really excited and just want to score," said rookie point guard Ashlyn Kernaghan. "Sometimes we get too excited, so we need to calm down."
"I think maybe we got a bit ahead of ourselves," Nevado agreed. "We really wanted to score and maybe got too excited. We probably should have just slowed it down a little more. They pressured us and we forced a couple passes – that wasn't good."
"I don't really pay attention, I just play my game and don't worry about the score that much," said Kernaghan, not feeling the fourth-quarter pressure. "I just try my best and push myself."
For a team that's averaged 14.6 points through six league games, scoring 25 against Ingersoll, and just last week against league-leading Dorchester, marked a dramatic improvement from Week 1. Thirteen of Thursday's 25 points were scored by point guards – another major difference from earlier weeks.
"If I'm open, I'll shoot," said Kernaghan, who matched Nevado's team-high six points. "And if I'm on a fast break I'll shoot. Sometimes the fast breaks don't work, sometimes they do.
"We've definitely improved – that was a really close game," said Nevado. "We started off the season with new players and it was pretty unorganized, but we're getting better. I'd say that (IDCI) game was probably our best. We tied our top score of 25, so that's pretty nice.
"In practices we've been doing our plays," said Nevado, "so we've done those a couple times over and everyone's pretty much on the same page. We know our positions and we know what we're supposed to be doing, so the plays have been working better than before."
"We've improved a lot," Kernaghan agreed. "We're improving every game. We're off sometimes, but this was a really good game for us."
Glendale has three games left in the TVRA regular season, including Tuesday's (Oct. 22) home game against Woodstock Collegiate Institute (2:30 p.m.), and an Oct. 29 rematch with the Blue Bombers in Ingersoll. Their first win is within shooting range.
"We're getting more points," said Kernaghan hoping for a win down the stretch.
"I hope so," Nevado smiled. "I definitely hope so."
Gemini scoring: Ashlyn Kernaghan 6, Cheyenne Nevado 6, Cassidy Adcock 2, Callie Palen 5, Kiersten Sanderson 4, Erin VanDaele 2
We apologize, but this video has failed to load.
Best effort nearly produces win for Gemini junior girls
Back to video