YU Ranch's 'cool' creation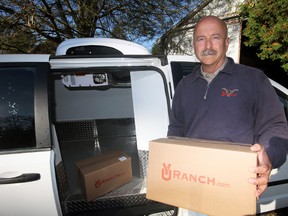 Article content
Kathleen Wynne has recognized YU Ranch's 'cool' invention with a 2013 Premier's Leaders In Innovation Award.
"Pretty cool – get it," smiled Bryan Gilvesy Tuesday morning at the Tillsonburg-area farm property.
"Yeah," responded his wife Cathy dryly – rolling her eyes only slightly – "get it."
Paula and Joe Gilvesy missed their father's humour, but not Monday's official ceremony inside an office at Queen's Park. YU Ranch was recognized for its conversion of a 2011 Dodge Caravan dubbed the 'Farmer's Market Express' (FME) into a mobile, self-contained hybrid gas/electric freezer container.
It was fitting Paula took a day off from studies at Western University and Joe from Glendale High School, given they were both figurative and literal drivers for a project seen by their parents as a means to an end: providing a practical platform to involve them in the business in a meaningful manner.
Part of the FME's creation (in March of 2012), Bryan had explained during Monday's awards ceremony, was controlling the family's own destiny in its transition from growing tobacco.
"And part was finding a way for our kids into this business that they could learn from."
Initially handed the keys to the van by her father, Paula, Joe and the FME were comparatively independent fixtures at farmers' markets in Tillsonburg, Port Rowan and Courtland.
The FME filled a need for a mobile stand-alone freezer unit suited to operation at farmers' markets.
"Farmers' markets don't always have infrastructure to support freezer meat sales," Gilvesy explained.
It also remains consistent philosophically with the YU Ranch's sustainable approach at a comparatively economical cost.
"In a way," said Gilvesy, "if you look after one, you look after the other."
His concept began with having a professional conversion company install an insulated interior customized to fit the van, along with a rooftop compressor/cooling unit. The essential difference is removal of the 'stowable' seats from the Caravan's interior and filling the space created with a battery pack and associated electrical connections. These allow the cooling apparatus to be run electrically and independently, rather than off the vehicle's motor.
"Which is far cheaper than running on the engine," said Gilvesy. "And gives the side benefit of being stand alone."
The custom conversion provides a functional vehicle, fuel efficient in terms of both travel and freezing capacity at what Gilvesy estimates is roughly half the cost of a 'standard' full-size freezer van.
"It's a question of trying to figure out a way to do things better and cheaper too."
The batteries are trickle charged as the vehicle is driving, but have a connection for a standard 110-volt household outlet, although ultimately, it could be charged from solar or wind-generated power. If an outlet is available, the unit could essentially run forever, without, with fully charged batteries in excess of five hours, says Gilvesy.
"So the kids can do a full market."
It is also handy he added, for deliveries to restaurants.
"This keeps us in closer touch with them."
Awards don't typically bring one financially closer to retirement, but there is value there.
"You would never ever turn one down," Gilvesy admitted with a smile.
And apart from a form of validation for the YU Ranch's sustainable, if not strictly conventional approach, the family is accepting this one with a sense of satisfaction based on Paula and Joe's shared ownership of the farmers' market marketing opportunity.
"It's a learning experience," Bryan summed up.
"An education in itself," Cathy concluded.
We apologize, but this video has failed to load.
YU Ranch's 'cool' creation
Back to video