New era for Gemini football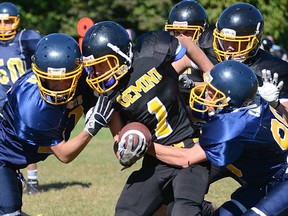 Article content
Glendale High School's varsity football debut Wednesday was a successful one.
Tillsonburg defeated Woodstock's College Avenue, who had switched to TVRA's varsity league three years ago, 42-14 on the Glendale field.
"I think our numbers helped," said Glendale Gemini coach Lee Janzen. "We wore them down."
Jason Vanthuyne was credited with Glendale's first-ever varsity touchdown, converted by Chris Reinhart early in the first quarter.
CASS replied with back-to-back touchdowns in the second quarter to take a 14-7 lead, while Gemini running back Kyle Sinden had two touchdowns called back by Glendale penalties.
Momentum changed after a lengthy injury delay in the second quarter, while two CASS players were taken by ambulance to hospital, swinging the advantage to the deeper-bench team.
Oscar Reddecop and Sinden both scored touchdowns late in the first half to give Tillsonburg a 21-14 lead.
Second half touchdowns were scored by Troy Lamoure, Sinden and football 'rookie' Mike Oliveira, each successfully converted by Reinhart.
"We didn't have a great start to the game… and we weren't expecting to face the 'wedge' again," Janzen smiled, adding with a laugh, "I thought we were done with East Elgin.
"It took a bit of adjusting, but once we adjusted to it and switched our defence up, it made a huge difference. We didn't have the ball in our hands on offence for a long time, but once you're up on them, then it's hard for them to come back."
The penalties, he said, have to be addressed.
"I think there's some discipline issues on the team we have to deal with. We had key mental mistakes. The blocking from behind – we had four or five calls – and two touchdowns called back. The penalties cost us and kept them in it. They were keeping the ball… and we didn't have it."
We apologize, but this video has failed to load.
New era for Gemini football
Back to video